Politics
2022-January-22  12:21
Navy Commander: Iran, Russia, China Establish Maritime Security Independent from West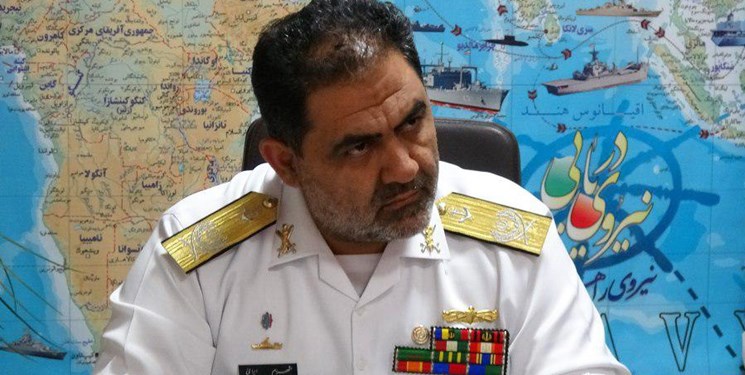 TEHRAN (FNA)- Iranian Navy Commander Rear Admiral Shahram Irani said that the country's naval forces along with their Russian and Chinese counterparts are able to establish security in international waters for the safe passage of trade cargoes without any need to the western powers.
Cooperation and coordination of Iran, Russia and China is at the "highest level", Rear Admiral Irani said, referring to the joint trilateral naval drills among Iran, Russia and China in Indian Ocean dubbed "Maritime Security Belt 2022" on Friday.
He underlined the extreme power of Iran, Russia and China in the international arena, and said that these three countries are known as naval power in the global level.
As a regional power, Iran's Army Navy has had a serious and active presence in the region over the past decade and today all efforts of all three countries in maritime field are based on ensuring maritime security and safety, Rear Admiral Irani emphasized.
He went on to say that the three countries of Iran, China and Russia provide maritime security and safety independently of Western alliances.
Elsewhere, he pointed to the international experiences obtained by Iran Army Navy, and said, "The most important experience that Iran Navy has been able to obtain in international arena is the charter of "We can" which has been institutionalized in Iranian community."
A trilateral Combined Naval Drills kicked off on Friday in North Indian Ocean with the participation of military units from Iran, China and Russia.
The Combined Naval Exercise, Maritime Security Belt 2022 is held under the slogan of "Together for Peace and Security" over an area of ​​17,000 square kilometers.
Deputy Commander of the Iranian Army for Coordination Rear Admiral Habibollah Sayyari underlined that strengthening of naval cooperation has been the main purpose for holding '2022 Marine Security Belt' joint drills in the North Indian Ocean on Friday.
Pointing to the significance of a trilateral combined naval drill between Iran, Russia and China in the Indian Ocean, Rear Admiral Sayyari said that establishing maritime trade security in North Indian Ocean and better coordination and closer communication between navy force of countries in the region is the main objective of the joint naval drill in line with exchanging maritime experiences in relief and assistance in maritime accidents.
"The authoritative holding of this military drill shows that Navy Force of the Islamic Republic of Iran, consisting of Army and IRGC, have achieved a very good capability in carrying out joint security programs with each other and can strengthen the maritime security belt in North Indian Ocean and Sea of Oman," he added.