Politics
2022-April-14  15:53
DM: Regional Cooperation Important in Iran's Defense Doctrine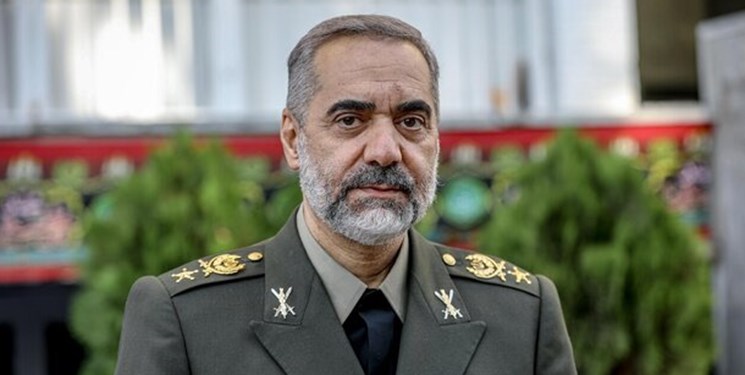 TEHRAN (FNA)- Iranian Defense Minister Brigadier General Mohammad Reza Ashtiani underlined importance of regional cooperation to establish security in the Persian Gulf and the Strait of Hormuz.
General Ashtiani made the remarks in a video call with his Japanese counterpart Nobuo Kishi on Thursday.
He said Iran's defense doctrine and policy attached importance to collective cooperation among regional countries to maintain security and stability.
General Ashtiani stressed that the regional countries are responsible for establishing maritime security in the Persian Gulf and the Strait of Hormuz, warning the "illegitimate" presence of foreign forces in the region disrupts security there.
He further said Iran and Japan have sensitive and key positions in the key geopolitical regions of the West and East Asia, and that the two countries are enhancing relations within the framework of peace and stability in a positive and constructive way.
The Japanese defense minister, for his part, outlined activities of his country's naval forces in the West Asian region and stressed the need to cooperate with Iran in ensuring maritime security.
Commander of the Islamic Revolution Guards Corps (IRGC) Navy Rear Admiral Alireza Tangsiri said in March that the regional states are capable of establishing security in the Persian Gulf and the trans-regional forces must leave the region as soon as possible.
"We have always maintained that regional countries are responsible for safeguarding security in the Persian Gulf and that foreigners must leave this region at the earliest," Rear Admiral Tangsiri said, addressing a meeting with a number of officials and commanders of the IRGC Navy bases.
"Unity among Muslim countries of the region is indicative of stability of lasting security and regional security is a red line for us."
Rear Admiral Tangsiri emphasized that Iran will confront any sinister plot or sedition designed to harm the Islamic Republic's security.
The IRGC commander said the Iranian forces are duty-bound to fully defend national interests anywhere and anytime and to closely monitor all enemy moves with full vigilance.
He noted that enemies constantly seek to harm Iran, saying, "We should always increase our readiness and combat capability to strongly protect the Islamic Republic of Iran's territory."
He also called all the IRGC Navy's commanders and forces to monitor the enemies' moves "with open eyes" and do not overlook acts of enmity even for a moment.
Rear Admiral Tangsiri noted that the IRGC Navy's control over the Persian Gulf, the Strait of Hormuz and North of the Indian Ocean has been boosted after it received new advanced homegrown defense hardware.