Politics
2022-April-16  15:12
IRGC: Zionists Fear Reemergence of Intifada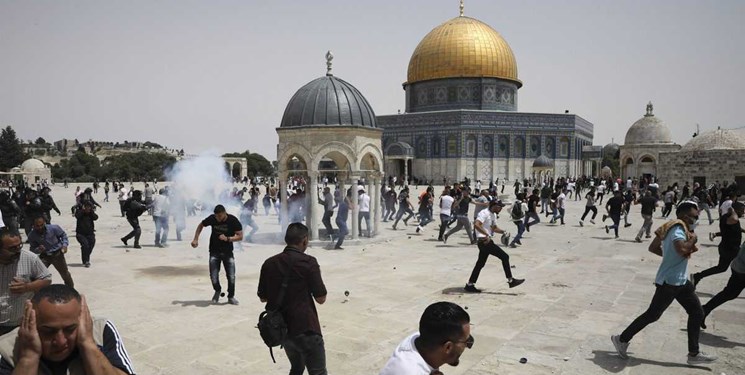 TEHRAN (FNA)- The Islamic Revolution Guards Corps (IRGC) condemned sacrilege of Al-Aqsa Mosque and injuring of hundreds of people by the Israeli forces, saying that the Zionist regime is fearful of the restart of the Palestinian Intifada.
The emergence of new Intifada and brave and epical presence of Palestinian youth is a nightmare for the Zionists, as well as their regional and infra-regional supporters, the IRGC said in a statement on Friday.
It added that the aggressive moves of the Zionist regime in Al-Aqsa Mosque were committed after the martyrdom-seeking operations of the pious and young Palestinian combatants at the heart of the Zionist regime's capital city during the past few days.
"The Zionists' criminal acts in Al-Aqsa Mosque also shows the fear and helplessness of the Zionists of the emergence of the new wave of Intifada, fortified by the brave and epical presence of Palestinian youth, which shows the high capacities of the resistance movement against the usurper Zionists," the statement said.
It underscored that breaching the sanctity of the Muslims' most sacred sites, such as the Al-Aqsa Mosque during the holy fasting month of Ramadan by the Zionist regime's military armed with most advanced weapons against the defenseless Palestinian worshippers in which more than 150 civilians were wounded was doomed to failure from the very beginning.
"Such criminal acts have no role in diminishing the heroic moves of the Intifada combatants, whose flames keep on blazing higher and higher every day and has become the nightmare of the Zionists, who get exposed to more and more serious challenges with the passage of each new day," the statement further added.
Israeli police raided the Al-Aqsa Mosque compound in occupied East Jerusalem, with medics saying at least 152 Palestinians have been injured in the ensuing violence.
The Islamic endowment that runs the site said Israeli police entered in force before dawn on Friday, as thousands of worshippers were gathered at the mosque for early morning prayers, Al-Jazeera reported.
Videos circulating online showed Palestinians throwing rocks and police firing tear gas and stun grenades. Others showed worshippers barricading themselves inside the mosque amid what appeared to be clouds of tear gas.
The Palestinian Red Crescent emergency service said it evacuated the majority of the wounded to hospitals. The endowment said one of the guards at the site was shot in the eye with a rubber bullet.
The Palestinian Red Crescent added that Israeli forces had hindered the arrival of ambulances and paramedics from reaching the mosque, as Palestinian media said dozens of injured worshippers remained trapped inside the compound.
Israeli police forces said they arrested at least 300 Palestinians during the latest escalation. Palestinian sources put the number at 400.