Politics
2022-April-17  18:15
Iranian Army Commander: Any Aggression to Cost Dearly for Enemies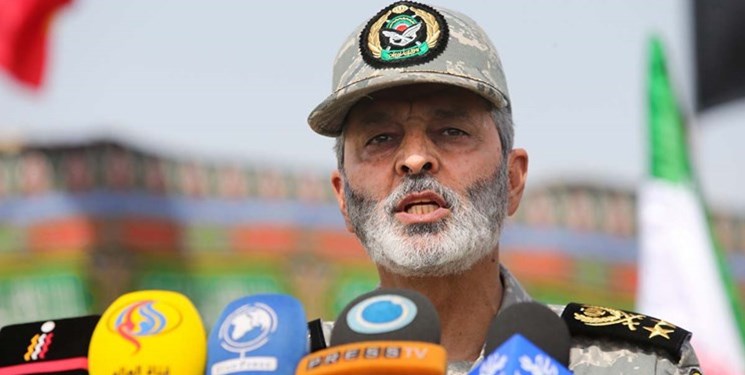 TEHRAN (FNA)- Iranian Army Commander Major General Abdolrahim Moussavi warned enemies of Iran's crushing response and dire consequences of any aggression against the country.
The Iranian army has experienced real fighting in every geographical condition and would respond to any threat at the highest level of capability, General Moussavi said on Sunday in a statement on the occasion of the National Army Day.
He warned the enemies that any aggression against Iran would cost them dearly.
General Moussavi said that the staff of the Army have ensured security of the Iranian people and borders with their blood and have been in the forefront in every difficulty, including in natural disasters to help people, proving that Iran's Army is not a sole-military entity.
He said that Iran's Army is the only army in the world inspired by spiritual values that seeks authority in obeying the conduct of great religious figures.
Increasing military capability, updating fighting tactics and methods in accordance with modern wars, and preparing for any kind of threats have turned Iran's Army to the country's arm of authority and the Islamic Republic of Iran the anchor of stability in the region, General Moussavi said.
In a relevant development earlier this month, Iran's Islamic Revolution Guards Corps (IRGC) in a statement warned enemies against any adventurist move, and vowed the country's devastating and rigid response to any kind of threat.
"The IRGC will join hands with other sections of the Armed Forces and security forces to safeguard independence, security, and national interests of Iran," the statement said.
It added that the IRGC will continue to fulfill its duties without any attention to "recent delusional remarks made by the terrorist regime of the United States against the elite force, as such remarks indicate how the rulers of this regime lag behind the global developments".
The statement said the US allegations against the IRGC reflect the fact that the rulers at the White House "lack a correct understanding of the shift in the power equations in the strategic region of West Asia and even beyond it". 
It pointed out that undermining and impeding the growth of Iran's defense power and deterrence capacity is the main goal of the enemy, which is seeking to destroy the Islamic Republic or make it and the Iranian nation submit to the policies of the hegemonic system and Zionism.
"The missile power and the popularity and regional influence of Iran ... [both of] which have been associated with the name of the Islamic Revolution Guard Corps, are red lines for the Iranian nation," the IRGC's statement said.
"We vociferously announce that the strong Iran has never defined the path to increasing its deterrence power, which guarantees its progress and security, according to aspirations, desires and wishes of the rules of the White House and their evil allies, and will not change it under their pressure, threat or evil media propaganda."