Politics
2022-April-18  13:07
Commander Stresses Iranian Army's Self-Sufficiency, Self-Confidence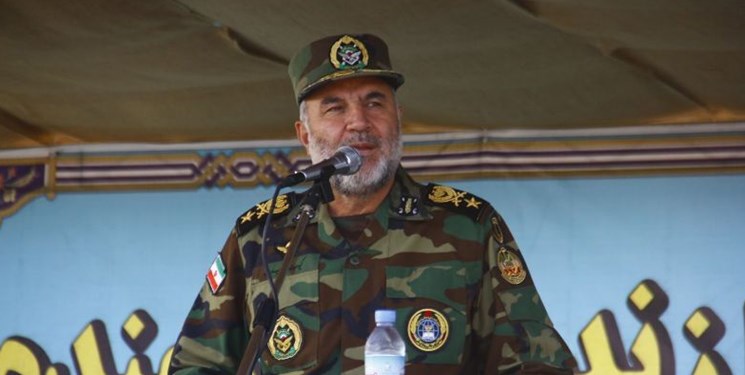 TEHRAN (FNA)- Commander of the Iranian Army Ground Force Brigadier General Kioumars Heidari underlined that the Army forces now rely on the domestically-made weapons and military equipment to supply their needs for defending the country.
The Army is now self-sufficient, self-confident, and the pious servant of the Islamic Republic of Iran, General Heidari said on Monday, addressing a ceremony to pay tribute to late Imam Khomeini at his mausoleum in Southern Tehran on the occasion of the National Army Day.
Iran's Armed Forces are so strong that they have several times diminished the US empty and fake grandeur in the region, he added.
Today, the aggressor US forces that had occupied Afghanistan and Iraq are leaving those countries thanks to the competence of the soldiers that have been trained in late Imam Khomeini's school of thought, General Heidari said.
In relevant remarks on Sunday, Iranian Army Commander Major General Abdolrahim Moussavi warned enemies of Iran's crushing response and dire consequences of any aggression against the country.
The Iranian army has experienced real fighting in every geographical condition and would respond to any threat at the highest level of capability, General Moussavi said in a statement on the occasion of the National Army Day.
He warned the enemies that any aggression against Iran would cost them dearly.
General Moussavi said that the staff of the Army have ensured security of the Iranian people and borders with their blood and have been in the forefront in every difficulty, including in natural disasters to help people, proving that Iran's Army is not a sole-military entity.
He said that Iran's Army is the only army in the world inspired by spiritual values that seeks authority in obeying the conduct of great religious figures.
Increasing military capability, updating fighting tactics and methods in accordance with modern wars, and preparing for any kind of threats have turned Iran's Army to the country's arm of authority and the Islamic Republic of Iran the anchor of stability in the region, General Moussavi said.