Politics
2022-April-21  16:27
Army Commander Assures Iranian Nation of Vigilance against Threats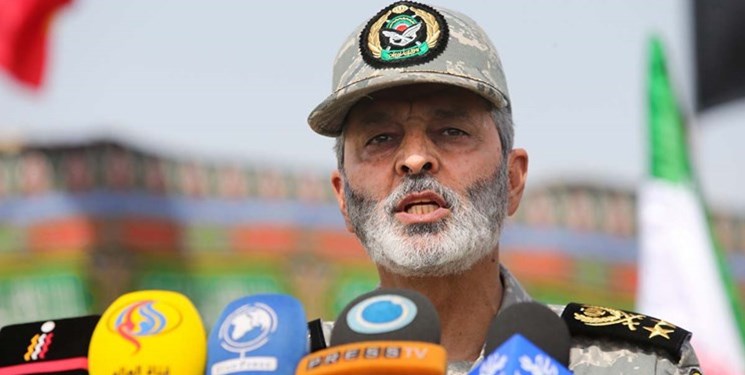 TEHRAN (FNA)- Iranian Army Commander Major General Seyed Abdolrahim Moussavi said that his forces are vigilantly monitoring threats against the country and will confront them powerfully.
The Army assures the Iranian people that the Armed Forces are powerfully making efforts to fulfill the goals of the Islamic revolution, General Moussavi told reporters on Wednesday
He underscored that the Army will counter any threat targeting the Islamic Republic and its borders, as well as the Iranian people's tranquility.
Asked about the preparedness of the Army Ground Force, General Moussavi said that it has made significant progress in recent years in different fields, including equipment and training.
He also said that the Ground Force has promoted its combat power and made progress on how to apply it during military missions.
Iranian officials have repeatedly underscored that the Islamic Republic will not hesitate to build up its defense capabilities, emphasizing such abilities are entirely meant for the purpose of defense and will be never subject to negotiations.
Commander of the Islamic Revolution Guards Corps (IRGC) Major General Hossein Salami in a meeting with General Moussavi on Tuesday stressed the need for the development of more advanced electronic warfare to defend the country.
During the meeting, General Salami hailed the expertise in the Army as deep-rooted and long-standing.
He said that the Army made great achievements during the Iraqi-imposed war on Iran in different fields of air, land and sea.
General Salami also said that the achievements in the field of manufacturing drones in both the Iranian Army and the IRGC were great, stressing the importance of focusing on some specialties, including electronic warfare.
The IRGC commander went on to stress that the unity and brotherly relations between the IRGC and the Army have angered the enemies and described the high-level solidarity and unity among the Iranian armed forces as very pleasing to him.
General Moussavi, for his part, thanked the IRGC commander for his support for the Army and the message on the National Army Day, and said that self-sufficiency in the army, specially in the air force is deep-rooted.
He further hailed the achievement of the Iranian army in the field of manufacturing helicopters at the order of the commander of the chief of all armed forces Leader Ayatollah Ali Khamenei, and said that the army is capable of manufacturing warplanes now.
General Moussavi also emphasized the readiness of the army to carry out exchange military students programs.