G7 'Will Never Recognize' Borders Changed by Force by Russia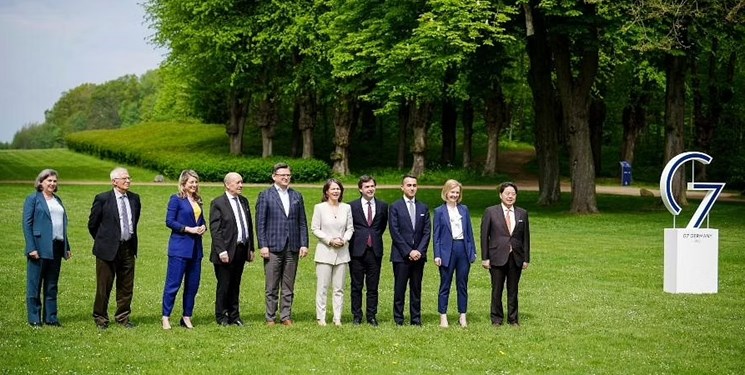 TEHRAN (FNA)- The Group of Seven industrialised nations announced they would never recognize the borders Russia is trying to shift in its war against Ukraine and pledged enduring support for Kyiv.
"We will never recognise borders Russia has attempted to change by military aggression, and will uphold our engagement in the support of the sovereignty and territorial integrity of Ukraine, including Crimea, and all states," the G7 foreign ministers said in a statement after three days of talks in Northern Germany.
The ministers were joined in the resort of Wangels by their counterparts from Ukraine and Moldova, as well as EU Foreign Policy Chief Josep Borrell.
In their joint statement, they vowed to expand sanctions to include sectors on which Russia is dependent and keep supplying Ukraine with weapons to help it repel Russia's attack.
"We reaffirm our determination to further increase economic and political pressure on Russia, continuing to act in unity," they added.
They have called on China not to help Russia, including by undermining international sanctions or justifying Moscow's actions in Ukraine.
Beijing should support the sovereignty and independence of Ukraine, and not "assist Russia in its war of aggression", they continued.
On February 24, President Vladimir Putin stated in a televised address on February 24 that in response to a request by the heads of the Donbass republics he had made a decision to carry out a special military operation. The Russian leader stressed that Moscow had no plans of occupying Ukrainian territories.
After that the US, the EU, the UK and a number of other states announced that they would impose sanctions against Russian legal entities and individuals. They also increased supplies of weapons to the Ukrainian authorities.
Moscow has repeatedly condemned the US and its NATO allies for delivering arms to Ukraine, insisting that the inflow of supplies will only prolong the conflict. The Kremlin has also stressed Western weapons are considered a legitimate target once they enter Ukrainian territory.