Politics
2022-May-18  14:26
Iran, Tajikistan Determined to Further Expand Military Cooperation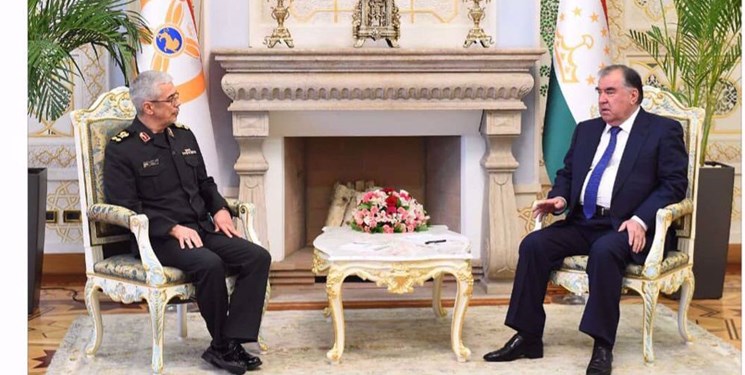 TEHRAN (FNA)- Chief of Staff of the Iranian Armed Forces Major General Mohammad Hossein Baqeri and Tajik President Emomali Rahmon underlined the two countries' willingness and determination to further broaden their military and defense cooperation.
Tajikistan is among the main priorities of the Islamic Republic's Armed Forces given the two countries' strategic position in the West Asia region, General Baqeri said during the meeting in Dushanbe on Tuesday.
"Strengthening, upgrading and developing the level of joint military interaction and relations between the two countries and increasing cooperation in various military fields are among the important priorities of Iran's Armed Forces with Tajikistan," he added.
General Baqeri expressed the hope that the two countries would accelerate the improvement of military and defense cooperation in the future.
He further stressed the importance of promoting peace and stability in Afghanistan as a neighbor and friendly country, and said, "The Armed Forces of the two countries can help Afghanistan establish security and peace by developing military and regional cooperation."
Rahmon, for his part, said Tajikistan's Armed Forces welcomes the expansion of military and defense cooperation with the Iran.
The Tajik president pointed to the inauguration of a manufacturing plant for tactical unmanned aerial vehicles in his country earlier in the day and added that such cooperation should reach its highest level in all military fields.
He noted that cultural commonalities are still regarded as the main basis for strengthening ties between the two nations and added that common historical and linguistic bonds have provided unparalleled conditions for further development of relations in defense, military, cultural, political and economic areas.
During an official ceremony in Dushanbe, Iran inaugurated a manufacturing plant for indigenously-developed Ababil 2 multi-role tactical unmanned aerial vehicles in Tajikistan in a bid to promote joint defense and military cooperation.
Addressing the ceremony, General Baqeri said that the Islamic Republic of Iran, with the efforts of its committed specialists and scientists and by using its internal capacities, has been able to make a significant growth in all military and defense dimensions, specially production of drones.
"Today we are in a position that we can export military equipment to allied and friendly countries in addition to meeting domestic needs in order to increase security and lasting peace," he said.
General Baqeri called opening of the Ababil 2 plant in Tajikistan a turning point in military cooperation between the two countries, and said, "God willing, in the future we will see more cooperation and interaction than all military defense levels between Iran and Tajikistan."