Politics
2022-May-18  14:40
FM: Iran Opposed to Wars Hurting Civilians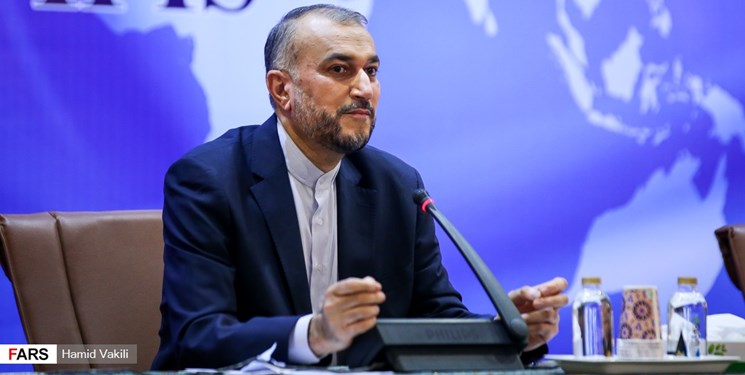 TEHRAN (FNA)- Iranian Foreign Minister Hossein Amir Abdollahian said that Tehran is opposed to any war which kills and hurts civilians whether in Ukraine, Afghanistan, Palestine or Yemen.
Amir Abdollahian made the remarks in a meeting with Slovakian Deputy Foreign Minister Ingrid Brockova in Tehran on Tuesday.
He added that the international organizations must adopt fair stances on developments in Afghanistan, Palestine and Yemen.
Amir Abdollahian said that the Islamic Republic of Iran's stance is against wars in which the civilians are hurt.
"Unfortunately, in our region and in Afghanistan, Palestine, and Yemen we are witnessing scenes of heartbreaking suffering of ordinary people, including women and children, and it is necessary that the international and European organizations will adopt appropriate stances and pay greater attention to those issues," he said.
Elsewhere in the meeting, Amir Abdollahian said that he is pleased with the outcome of the two countries' deputy foreign ministers meetings, and voiced the foreign ministry's readiness for the further improvement and deepening of mutual political and economic cooperation.
He said that holding the Joint Economic Commission was an appropriate move for consultations on creating new business and economic opportunities.
Brockova, for her part, expressed delight about the meetings among the two countries' political and economic officials in various levels.
She also stressed the importance of bilateral political and economic relations.
In relevant remarks last month, Amir Abdollahian said that his country is opposed to both war in Ukraine and sanctions against Russia.
Amir Abdollahian made the remarks in a phone conversation with his Hungarian counterpart Peter Szijjarto.
He referred to the war between Russia and Ukraine and the Western-led sanctions on Moscow, saying the Islamic Republic rejects both wars and sanctions.