Politics
2022-May-21  13:57
IRGC Commander Underlines Iranian Nation's Vigilance against Enemies' Plots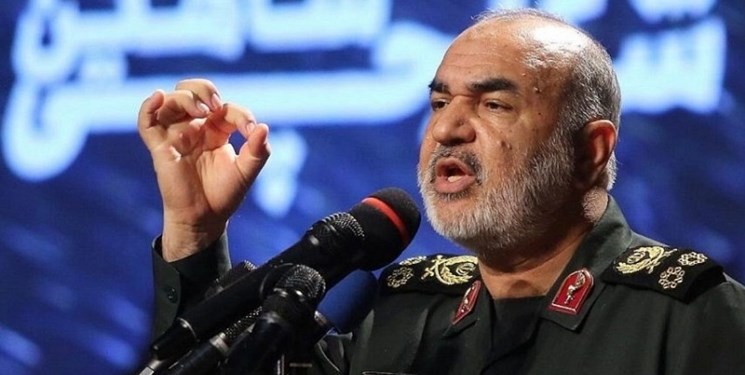 TEHRAN (FNA)- Commander of the Islamic Revolution Guards Corps (IRGC) Major General Hossein Salami said that the Iranian nation has foiled all plots hatched by enemies, specially the US, against the country.
"The enemy has not got to know the Iranian nation yet. May God bless our nation, which has always destroyed the illusions of the enemies," General Salami said.
He added that the enemies imagine they can deceive the Iranian people through "lies", "rumors", and "calls" to chaos and rebellion, but the nation has always remained vigilant in the face of such plots.
General Salami praised the Iranian nation's bravery in defending the country over the course of the 1980s Iraqi war on the country, saying, "Your glory did not come to an end following the Sacred Defense. Since then, you have buried the dreams of the enemies with them every day."
He added that the enemies, specially the US, never stop hatching plots against Iran, but the great Iranian nation has thwarted all the conspiracies through vigilance.
The enemies of Iran have always been "lying in ambush" to target the nation and prevent it from achieving victories, but to no avail, the IRGC commander said.
In relevant remarks in November, General Salami said that Washington is used to sustaining defeat in its plots against the Iranian nation.
The Americans are used to defeats at the hands of the Iranian nation, but, they have yet to learn the lesson well, General Salami said.
He also spoke about the US hegemonic moves to provoke wars in the world, saying that more than 40 major wars in 40 parts of the world are the outcome of Americans' politics in the world.
General Salami said that the US has engaged in a war with many countries in Europe, Africa, South America, the Far East, West Asia, and Russia, and added that the US waged wars have left more an 8 million dead in the world.
According to Major General Salami, the US dreamed of dominating the Islamic world so as to dominate the entire world, however, the Islamic Revolution of Iran prevented the Americans' dreams from coming true.
He said that Iran foiled US plots in the region.
"Today we no longer see the US in the center of regional politics and the US allies in the region have lost their trust in the policy of that country," General Salami added.