Politics
2022-May-25  13:12
Iran, Kazakhstan Call for Broadening of Economic Ties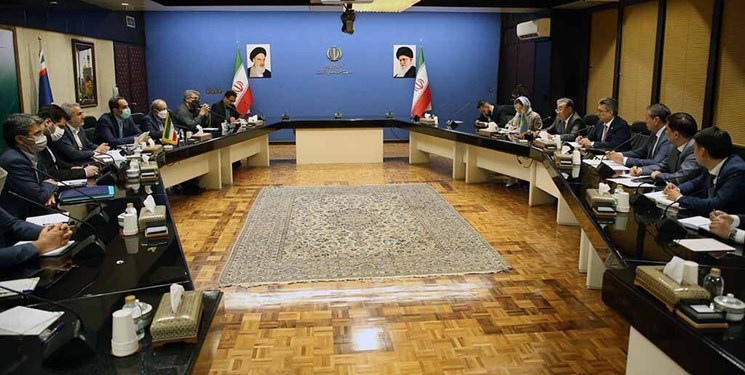 TEHRAN (FNA)- Iran's Minister of Industry, Mine and Trade Seyed Reza Fatemi Amin and Deputy Prime Minister and Minister of Trade and Integration of Kazakhstan Bakhyt Sultanov in a meeting in Tehran called for broadening of bilateral relations, specially in economic fields.
During the meeting in the Iranian capital, the two sides explored avenues for bolstering and reinvigorating mutual cooperation.
During the meeting, Fatemi Amin described joint ventures as a strategic way to deepen economic relations between the two countries.
"The most important issue that exists and needs to be resolved is the issue of financial transfer… There are several mechanisms for financial transfer that we are examining, and if this issue is resolved, we will witness a huge leap in the field of bilateral commercial activities," he said.
He pointed out that Kazakhstan is very rich in mining and has big mining companies like Iran, and said, "We import two million tons of steel sheets annually, part of which can be imported from Kazakhstan."
Sultanov, for his part, said Iran and Kazakhstan need to draft new forms of cooperation to enhance bilateral trade.
"Iran has good products in various fields including agricultural machinery, chemical fertilizers and other industrial products. Iran has 120 years of experience in oil extraction and also enjoys good knowhow in various fields of technology. We want to exchange experience with Iran not only in oil and gas sector, but also in the field of industry and mining," the Kazakh deputy prime minister added.
Iran and Kazakhstan are set to strengthen trade ties as Tehran is moves closer to join the Eurasian Economic Union.
Heading a delegation, Deputy Prime Minister and Minister of Trade and Integration of Kazakhstan, Sultanov is in Iran on an official visit to discuss expansion of bilateral trade with high-ranking Iranian officials.