Politics
2022-June-7  18:58
Iranian Army Commander Underlines Liberation of Israeli-Occupied Territories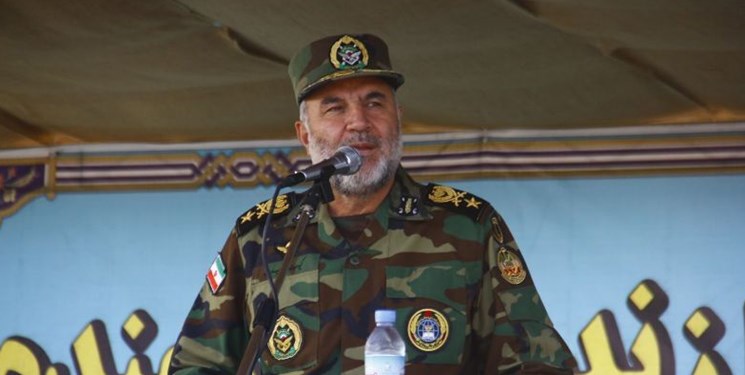 TEHRAN (FNA)- Iranian Army Ground Force Commander Brigadier General Kioumars Heidari warned Israel against any mischief, and vowed that the territories occupied by the Zionist regime will be liberated.
"Upon an order of the Supreme Leader of the [Islamic] Revolution, we will raze Tel Aviv and Haifa to the ground for any mistake made by the enemy (Israel)," General Heidari said on Tuesday.
He added that the Israeli-occupied territories will be liberated in less than 25 years.
General Heidari underlined Iran's progress in military and defense fields, and said, "Today, the military and defense achievements of the army of the Islamic Republic of Iran are a thorn in the enemies' eyes."
He added that "the range of drones and operational missiles of the Army's Ground Force has increased".
General Heidari referred to the Army's strategic drone base 313, saying that all such equipment is aimed at responding to any foolish attack by the country's enemies.
He said that the light weapons of the Iranian ground forces are also being "changed, updated, and localized".
Iranian politicians and military officials have repeatedly warned Israel against any adventurism against the Islamic Republic, warning of a crushing response to any act of aggression.
In relevant remarks in April, Commander of the Islamic Revolution Guards Corps (IRGC) Major General Hossein Salami warned Israel that Iran's response to any mischiefs by the regime would be painful and crushing.
"We are men of our words. Our response will be painful for the Zionist regime," General Salami said.
He warned Israel that its vicious acts will bring about severe consequences.
"The Zionist regime was created under international conspiracies. God willing, we will see the eradication of Israel off the face of the Earth," General Salami said.
He described the creation of the Tel Aviv regime as a non-healing wound and a dagger in the back of all Muslims, stressing that Palestinians have realized that the so-called Abraham Accords and similar normalization agreements will neither bring them security nor peace.
"The enemy only understands the language of force. The roadmap for Iran is to become stronger as it is the way to emerge victorious."
"The Zionist regime has not won a war against Palestinians in recent years. Zionists have reached a point, where inflicting injuries on a Palestinian will bring them repercussions," the IRGC chief said.
He went on to note that Israeli officials have come to realize that Washington is not a reliable partner to rely on.