Economy
2022-June-8  14:45
Tajik PM: Horizon of Cooperation with Iran Broader than Ever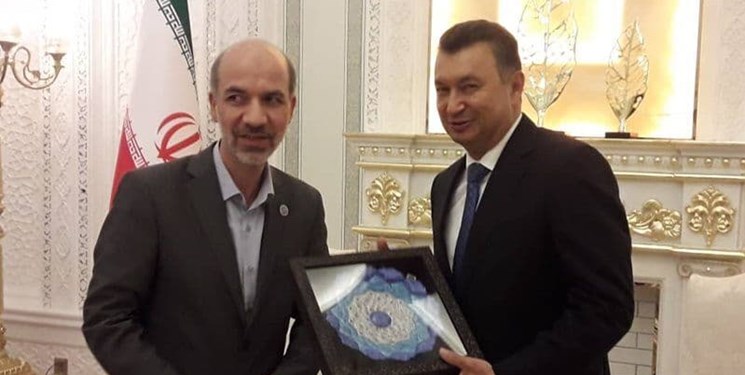 TEHRAN (FNA)- Tajik Prime Minister Kokhir Rasulzoda in a meeting with Iranian Energy Minister Ali Akbar Mehrabian underlined bright future for cooperation between the two countries.
During the meeting in Dushanbe on Tuesday, Rasulzoda said that the horizon of the two countries' cooperation is now broader than ever before.
He announced Dushanbe's readiness for unprecedented economic and business ties.
Rasulzoda also assured Mehrabian that he is well aware of the competence and high quality of the technical and engineering services of the Iranian companies at rational prices.
He appreciated Iran for hosting the ceremony in which 17 cooperation documents were signed, saying that those documents pave the way for a lot broader mutual cooperation.
Mehrabian, for his part, said that the Iranian companies are ready to implement technical and engineering projects in Tajikistan.
Mehrabian, who is also the Iranian head of the Joint Iran-Tajikistan Economic Cooperation said that Supreme Leader of the Islamic Revolution Ayatollah Seyed Ali Khamenei believes that the Iranian and Tajik nations are relatives, announcing the Iranians' readiness for assisting their Tajik brethren.
He announced the Iranian companies' conditions, their highly competing prices for offering services, and high quality products.
Also in a meeting with Tajikistan's Foreign Minister Sirojiddin Muhriddin on Tuesday, Mehrabian said that Iran is ready to cooperate with Tajikistan in modern technologies.
During the meeting, the two sides referred to the successful holding of an international conference entitled "water for sustainable development", and stressed that the agreements made during a recent visit to Iran by Tajikistan's President Emomali Rahmon is the base for promotion of trade relations between the two countries.
They also underlined the need for activating the private sectors of Iran and Tajikistan as the driving force of expansion of bilateral relations.
Iranian and Tajik officials signed several cooperation documents in different areas during President Emomali Rahmon's visit to Tehran last month.
17 cooperation documents were endorsed by the two countries' senior officials in the presence of Iranian President Seyed Ebrahim Rayeesi and Tajik President Emomali Rahmon.
The agreements are in the fields of politics, economy, trade, transportation, investment, new technologies, environment, sports, energy, judiciary, education and research, and tourism.
Addressing the meeting with President Rahmon, President Rayeesi said that Tehran and Dushanbe have taken good steps to elevate their ties after Tehran's participation in the last year's Shanghai Cooperation Organization (SCO) summit in Tajikistan's capital.
President Rahmon, for his part, said that Tajikistan was seeking to consolidate relations with Iran since the beginning of Rayeesi's tenure.