Politics
2022-June-9  18:29
FM: West Fails to Force Iran into Recognition of Zionist Regime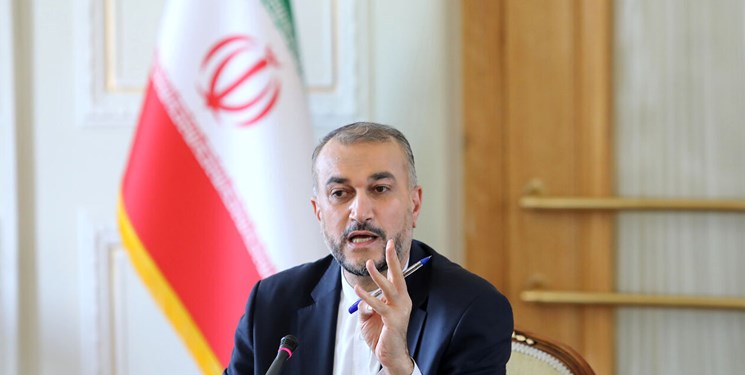 TEHRAN (FNA)- Iranian Foreign Minister Hossein Amir Abdollahian said that the western states participating in talks with the country's officials had demanded Tehran to recognize the Zionist regime in Israel for the resolution of issues related to its nuclear program.
The West, during the negotiations with Iran in the past, had been pushing for the country's recognition of Israel in return for resolving issues related to Tehran's nuclear program, Amir Abdollahian said, addressing top Indian Muslim figures in India on Wednesday.
Of course, the western states, including the US, know that nuclear bombs have no place in Iran's religious beliefs and the country is not after these weapons, he said, adding that with such allegations, they sought to pressure Tehran into recognizing the Zionist regime and achieve their goals, but they failed.
The top Iranian diplomat said that his country considers it a duty to make efforts for the liberation of the Holy Quds from Israeli occupation.
Amir Abdollahian also highlighted the need for efforts to identify plots against the Islamic values.
Supreme Leader of the Islamic Revolution Ayatollah Seyed Ali Khamenei has on many occasions said the Islamic Republic considers the pursuit and possession of nuclear weapons "a grave sin" from every logical, religious and theoretical standpoint. On April 17, 2010 Ayatollah Khamenei issued a fatwa declaring that the production, stockpiling, and use of nuclear weapons are all haram (religiously banned).
"Iran is not after a nuclear bomb. Why would Iran want a nuclear bomb? Moreover, when an atomic bomb is detonated, it does not just kill enemies. Rather, it kills innocent people as well, and this goes against Islamic beliefs and the principles of the Islamic Republic of Iran. An atomic bomb does not discriminate between good and bad people, and it is not something that the Islamic Republic would use. The Islamic Republic is relying on something that is not affected by bombs, foreign invasions and other such things. Such things only strengthen what the Islamic republic is relying on. The Islamic republic is relying on the people," a part of the fatwa said.
Analysts believe that the fatwa of the Leader of the Islamic Revolution can well serve as a beacon of light for Washington in order to find its way out of darkness and ignorance.