Politics
2022-June-9  18:46
Amir Abdollahian: Iran, India Determined to Enhance Ties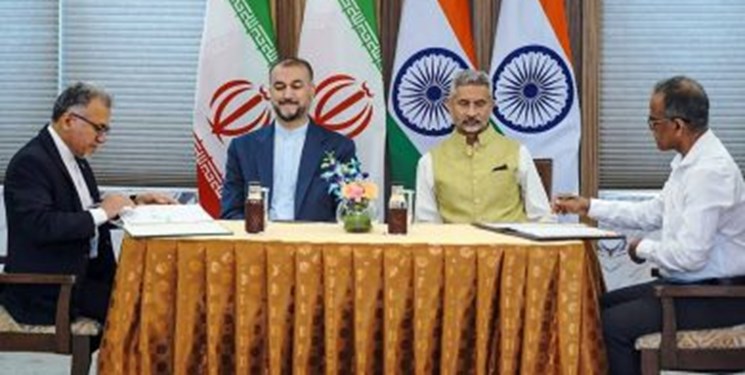 TEHRAN (FNA)- Iran's top diplomat Hossein Amir Abdollahian said that Tehran and New Delhi have devised plans to improve their relations to higher levels.
"Pleased to meet (Indian) PM Modi, FM Jaishankar and other Indian officials to advance our bilateral strategic dialogue," Amir Abdollahian wrote on his twitter page on Wednesday
"Tehran and New Delhi agree on the need to respect divine religions and Islamic sanctities and to avoid divisive statements. Iran and India are determined to bring relations to new heights," he added.
Iran and India are determined to enhance bilateral relations to a higher level, Amir Abdollahian emphasized.
The Iranian top diplomat eft Tehran for New Delhi on Tuesday afternoon at the official invitation of the Indian counterpart to meet with high-ranking Indian officials.
The visit is aimed at developing relations between the two countries and conducting strategic consultations on bilateral cooperation on regional issues as well as international developments.
Upon arrival in New Delhi, Amir Abdollahian stressed good relations between Tehran and New Delhi, saying that the two countries are enhancing their comprehensive cooperation.
"Relations between Tehran and New Delhi are at a very good level. We are witnessing growth and development of comprehensive relations, including in the economic and cultural fields, and exchange of delegations between the two countries, ever since the new administration took office" in Iran, he told reporters on Wednesday morning.
"Besides meetings with Prime Minister [Narendra Modi] and National Security Advisor [Ajit Kumar Doval], I will have an in-depth conversation with my counterpart today," he said. 
The Iranian foreign minister explained that he had reached an agreement with his Indian counterpart in Tehran earlier this year to draw up a roadmap for long-term cooperation between the two countries.
Amir Abdollahian also touched on the recent controversial remarks by India's two ruling party officials that insulted Prophet Muhammad (Peace upon Him), saying the Indian government has taken a stance and categorically condemned them.
"India has long been following the path of peaceful coexistence, and adherents of all religions have lived there in peace and tranquility," the Iranian foreign minister said, noting that Muslims cannot accept desecration of the Prophet of Islam in any way.
"We expected to hear Indian leaders speak out about peaceful coexistence of all religions and sects, as we have seen throughout the country's history. We hope Indian authorities will reiterate this stance in the talks," Amir Abdollahian said.
The controversy began after Nupur Sharma, the spokeswoman of the Bharatiya Janata Party (BJP), made insulting remarks during a TV show, triggering a wave of condemnation at home and abroad from the Muslim world. The party has since distanced itself from her remarks and suspended the spokeswoman. Nevertheless, Muslim leaders in India have called for legal action against her.
Another BJP spokesman, Naveen Kumal Jindal, was expelled from the party over comments he made about Islam on social media.
On Friday, Muslims in Kanpur city of the northern Uttar Pradesh state protested against the BJP spokeswoman's comments.