Politics
2022-June-11  16:18
Iran, Venezuela Ink 20-Year Cooperation Deal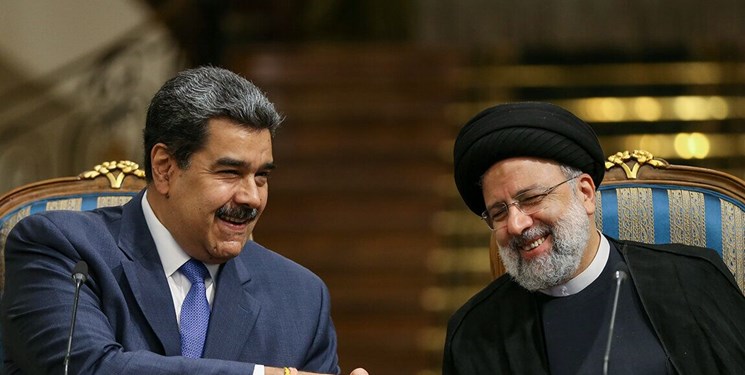 TEHRAN (FNA)- Iranian President Seyed Ebrahim Rayeesi and his Venezuelan counterpart Nicolas Maduro in a meeting in Tehran signed a 20-year partnership agreement to broaden cooperation between Tehran and Caracas in various areas.
The partnership agreement includes cooperation in the fields of science, technology, agriculture, oil and gas, petrochemicals, tourism, as well as culture.
The signing ceremony was officially held in the presence of the two countries' high-ranking officials in the Iranian capital of Tehran on Saturday.
The Iranian president said that Iran and Venezuela are determined to further broaden their cooperation despite the US and Western pressures.
President Rayeesi, meantime, saidi that the launch of direct Tehran-Caracas flights, which will take place soon, is an opportunity for the two countries to expand economic and trade relations and bring their relations closer.
Maduro, heading a high-ranking politico-economic delegation, arrived in Tehran on Friday to confer with senior Iranian officials, specially President Seyed Ebrahim Rayeesi, on bilateral and international issues.
President Maduro's visit to Iran takes place at the official invitation of President Rayeesi.
Holding talks with President Rayeesi and holding a joint meeting of the two countries' high-level delegations are among the plans of the Venezuelan president during his  stay in Iran.
In a phone conversation with his Venezuelan counterpart in December, Rayeesi said Venezuela was targeted by the US because it seeks independence and freedom and fights against the arrogant system.
He lauded Tehran-Caracas relations as "strategic," adding that the development of mutual ties, especially in trade and economic fields, is a necessity.
Both Iran and Venezuela have managed to withstand economic pressures from the US, and have closely cooperated to offset the impact of illegal sanctions, particularly those targeting their energy sectors.
Iran has supplied fuel shipments and equipment needed in crude refineries to Venezuela in the face of US pressure on the country's shipping and trade services. Venezuela has also received major shipments of condensate, a diluent of heavy oil, from Iran.
In a press conference earlier in the day, President Rayeesi lauded the strategic relations between Tehran and Caracas, and expressed the hope that the two countries will further strengthen their cooperation in future.
"The two countries would keep up their cooperation by signing a 20-year cooperation document," the Iranian president said addressing a joint press conference with Venezuelan President Nicolas Maduro on Satuday.
"Iran has always sought to have ties with independent countries and that Venezuela's resistance against imperialism and enemies was exemplary," he added.
The Iranian president said that as the White House press secretary has confessed the US' maximum pressure policy has failed and this is a victory for the Iranian people and a failure for the enemy.
"The Venezuelan nation, which has had difficult years under US sanctions, has been determined to stand against the enemies," he added.
President Rayeesi said that Venezuela has left hyperinflation behind and resumed economic growth, adding that it proved that resistance had worked and forced the enemy to withdraw.
"Iran and Venezuela have good cooperation on energy, thermal plants, refinery maintenance, technical and engineering service, economy, defense, and military which is indicative of the high capacity of their relations," he further said.