Politics
2022-June-12  13:56
Maduro: Venezuela Interested in Using Iran's Experiences to Defuse US Sanctions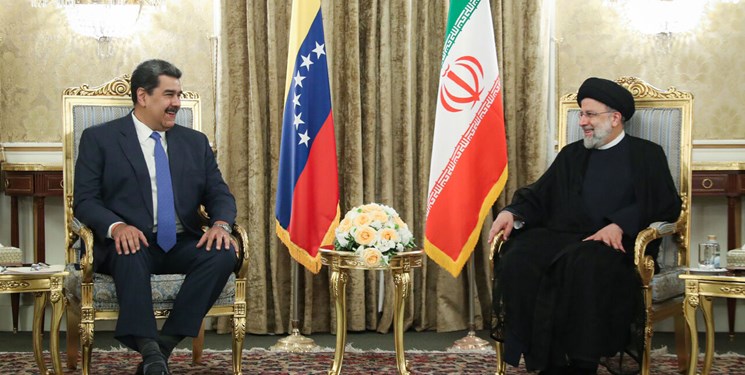 TEHRAN (FNA)- Venezuelan President Nicolas Maduro said that his country is willing to learn from Iran ways to render the US sanctions and pressures useless.
Venezuela is interested in using Iran's historical experience, as well as its capabilities in various fields to pass through unilateral sanctions times plus increasing cooperation and relations between the two countries, Maduro said in a meeting with his Iranian counterpart Seyed Ebrahim Rayeesi in Tehran on Saturday.
He referred to the signed 20-year-long cooperation document between the two states, and said that it provides a clear perspective of the path forward in relations between Iran and Venezuela.
Pointing to the various fields of cooperation between the two states, including oil, gas, refinery, and petrochemicals, he pointed out that Venezuela calls for expanding cooperation with Iran in the fields of technology for developing agricultural production in Venezuela.
Rayeesi, for his part, said that Tehran and Caracas have good capacities and grounds to enhance relations with each other.
Describing relations with Venezuela in various fields as strategic, he said that Venezuela, as an independent state, resisted against the threats and sanctions of imperialism in an exemplary manner.
The Iranian president described the basis of the Islamic Republic of Iran's foreign policy as the development of relations with independent and friendly countries.
Stating that the Iranians have always been under sanctions and pressure for 43 years, he highlighted that Iranians have decided to turn these sanctions into an opportunity for the country's progress.
The Americans have officially admitted that maximum pressure on the Islamic Republic of Iran has failed, which it means the victory of the Iranians and the defeat of the US and the enemies of Iran.
Rayeesi said the Venezuelan government and nation's resistance to harsh pressures and sanctions, the country's overcoming super-inflation, and the resumption of economic growth in the country is a good sign that it proves to everyone, that resistance against the enemies can be a good solution.
Describing relations with Venezuela in various fields as strategic, President Rayeesi underscored that Tehran and Caracas have good capacities and grounds for enhancing relations, noting that today the two countries have constructive cooperation in the field of energy, thermal power plants, repair and overhaul of Venezuelan refineries, export of technical and engineering services, economic, as well as agricultural fields.
In relevant remarks on Saturday, Rayeesi lauded the strategic relations between Tehran and Caracas, and expressed the hope that the two countries will further strengthen their cooperation in future.
"The two countries would keep up their cooperation by signing a 20-year cooperation document," the Iranian president said addressing a joint press conference with Maduro in Tehran.
"Iran has always sought to have ties with independent countries and that Venezuela's resistance against imperialism and enemies was exemplary," he added.
The Iranian president said that as the White House press secretary has confessed the US' maximum pressure policy has failed and this is a victory for the Iranian people and a failure for the enemy.
"The Venezuelan nation, which has had difficult years under US sanctions, has been determined to stand against the enemies," he added.
President Rayeesi said that Venezuela has left hyperinflation behind and resumed economic growth, adding that it proved that resistance had worked and forced the enemy to withdraw.
"Iran and Venezuela have good cooperation on energy, thermal plants, refinery maintenance, technical and engineering service, economy, defense, and military which is indicative of the high capacity of their relations," he further said.
Maduro, heading a high-ranking politico-economic delegation, arrived in Tehran on Friday to confer with senior Iranian officials, specially President Rayeesi, on bilateral and international issues.