Politics
2022-June-15  12:02
President Rayeesi Calls for Broadening of Iran-Pakistan Ties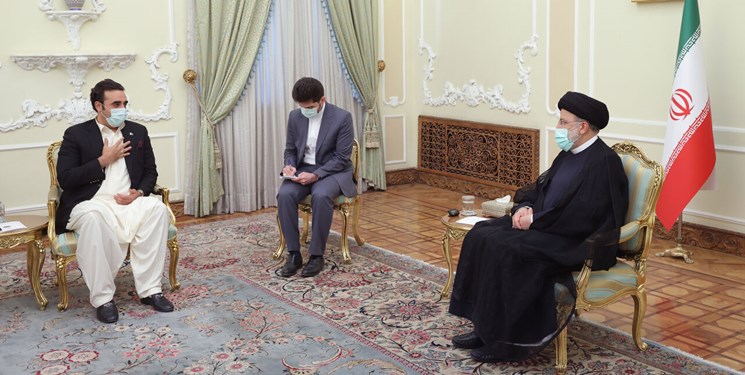 TEHRAN (FNA)- Iranian President Ebrahim Seyed Ebrahim Rayeesi in a meeting with Pakistan's Foreign Minister Bilawal Bhutto-Zardari underlined the need to expand comprehensive relations between Tehran and Islamabad.
"The Islamic Republic of Iran is ready for enhancement of comprehensive cooperation with Pakistan," President Rayeesi said during the meeting Bhutto-Zardari on Tuesday night.
"We have the required capacities for providing Pakistan's needs in various fields, including providing oil, gas and electricity for that brother and neighboring country," he added.
The Iranian president pointed out that the deep-rooted and centuries-old relations between the two nations are rooted in the hearts and beliefs of the two nations.
Bhutto-Zardari, for his part, expressed delight for having a chance to visit Iran, and said, "As much as I am a son of Pakistan, I am also a son of Iran."
The Pakistani foreign minister also appreciated the Islamic Republic of Iran for assisting his country in extinguishing the mountain forest wild fire in Pakistan's Balucistan province.
In a relevant developments in late April, Iranian Foreign Minister Hossein Amir Abdollahian and Bhutto Zardari in a telephone conversation underlined the need to expand mutual cooperation in different fields.
During the phone talk, Amir Abdollaian and Bhutto Zardari explored avenues for bolstering and reinvigorating bilateral relations in various areas.
During the telephone conversation, the Iranian foreign minister congratulated his Pakistani counterpart on his appointment to the top post and wished him success.
"I hope during your tenure in the Foreign Ministry of Pakistan, we will witness expansion of ties between the two nations more than ever before," the Iranian foreign minister said. 
The top Iranian diplomat added that the Islamic Republic of Iran and Pakistan will celebrate the 75th anniversary of their relations and these ties that are based on deep cultural, historical and linguistic commonalities, can serve as a model of relations among Muslim countries. 
The Pakistani foreign minister, for his part, thanked his Iranian counterpart's  congratulations and ponted to good ties between Pakistan and Iran and to the popular, historical and cultural ties between the two countries.
Bhutto Zardari also said that Islamabad is determined to expand bilateral relations with Tehran more than ever before.
He expressed hope that economic ties with Iran will expand further with the removal of the existing obstacles.