Politics
2022-June-16  16:46
Iranian FM Describes IAEA Resolution As US Plot to Make Gains in Vienna Talks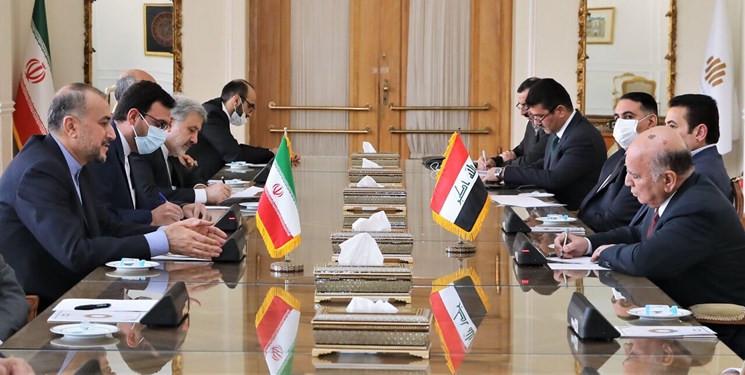 TEHRAN (FNA)- Iranian Foreign Minister Hossein Amir Abdollahian said that the recent resolution approved by the UN nuclear watchdog against Tehran was a US plot to force Tehran to make concessions in the Vienna talks.
Amir Abdollahian made the remarks in a phone conversation with Iraqi Foreign Minister Fuad Hussain during which they discussed bilateral and regional issues and talks on lifting sanctions.
He referred to the Vienna talks on removal of sanctions, saying, "While exchanging messages between the United States and Iran through the EU envoy was underway, the White House suddenly came up with the idea of ​​issuing a resolution at the IAEA."
According to him, the Americans drafted the resolution at the IAEA Board of Governors to achieve political goals at the negotiating table.
Tehran has always called on the West to pursue diplomacy, Amir Abdollahian said, adding that in recent days leading to the meeting of the IAEA BoG, Iran, as an initiative measure, proposed a political plan to continue the talks until reaching a final agreement.
"Iran believes that diplomacy is the best way to reach a good, strong, and lasting agreement, but in the face of bullying, we will give an authoritative response," he asserted.
Elsewhere in his remarks, he spoke about Baghdad-mediated talks between Tehran and Saudi Arabia, saying, "Our assessment of the recent round of talks in Baghdad is positive, and Tehran welcomes implementation of the results of talks."
"Iraq has always encouraged the United States and the West to resolve the problems and lift sanctions," the Iraqi top diplomat also said for his part.
Expressing satisfaction with the ongoing talks between the Islamic Republic of Iran and Saudi Arabia, he stressed the will of the Iraqi government is to continue to facilitate this issue until direct talks are held between the two countries' foreign ministers and relations return to normal."
The US, France, Britain, and Germany spearheaded a resolution at the IAEA's Board of Governors on Wednesday, which accused Iran of not cooperating with the UN nuclear watchdog.
Iran has denounced the resolution and blamed the US and its three European allies for the crisis created over its nuclear program, which was under an unprecedented level of inspections before Washington withdrew from the JCPOA.
The resolution was passed only few days after the IAEA's chief Rafael Grossi traveled to Israel and met the regime's hawkish Prime Minister Naftali Bennett.
Iran had previously warned that Grossi's visit to Israel ahead of the meeting of the Board of Governors was in contradiction with the agency's principles of observing impartiality and maintaining its technical and professional status.
In relevant remarks earlier this week, Amir Abdollahian also criticized the Western-drafted resolution passed against Tehran's nuclear program, saying the Islamic Republic still insists on reaching a "good, strong and lasting" deal with the G4+1 group of countries.