Politics
2022-June-17  18:35
Iran, Armenia Vow to Broaden Mutual Cooperation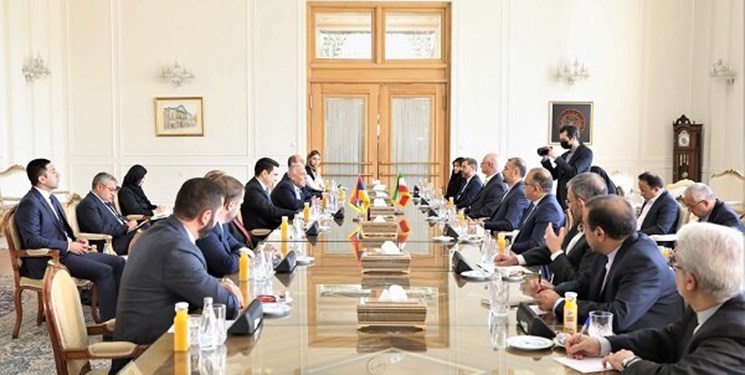 TEHRAN (FNA)- Iranian Foreign Minister Hossein Amir Abdollahian and Speaker of Armenia's National Assembly Alen Roberti Simonyan in a meeting in Tehran underlined the need to expand bilateral relations in different areas.
During the meeting in the Iranian capital on Thursday, Amir Abdollahian and  Simonyan explored avenues for bolstering and reinvigorating mutual cooperation in various fields.
During the meeting, Amir Abdollahian described Armenia as an important friend and neighbor of Iran.
The Iranian foreign minister also pointed to the high-level political relations between the two countries, and stressed the need to enhance mutual economic cooperation by taking advantage of the two countries' diverse capacities and capabilities to the level of $1 billion.
Amir Abdollahian further described Armenia as an important part of the international Persian Gulf-Black Sea corridor and declared the readiness of Iranian companies to conduct and complete infrastructure projects in Armenia, specially in the field of transportation.
Simonyan, for his part, expressed his happiness with the process of expanding relations between the two countries at the bilateral level and in international level as well, and said that, "The Republic of Armenia attaches special importance to the position of the Islamic Republic of Iran as an effective and influential country in the region and pays special attention to the development of relations with Tehran."
He also stressed that Yerevan sees no ceiling for expanding cooperation with Iran.
Simonyan also called the establishment of the Consulate General of the Islamic Republic of Iran in the Armenian Syunik Province as a turning point in the relations between the two countries, and announced the readiness of Armenia to establish a Consulate General in Iran's Tabriz.
In a relevant development earlier this month, Armenia's National Assembly Vice-Speaker Hakob Arshakyan underlined that his country regards the widening of relations with Iran as strategically important.
Arshakyan made the remarks in a meeting with Deputy Chairman of the Iranian Parliament's National Security and Foreign Policy Commission Abbas Moqtadayee in Yerevan on June 8.
He welcomed the delegation members who arrived in Armenia within the framework of the CSTO PA Council Session, and said that the inter-parliamentary format is the best platform for discussing issues of mutual interest.
"The cooperation between Armenia and Iran can be a good example for two countries, which are guided by the agenda of peace, development and dialogue between civilizations," Arkashyan added.
The year 2022 will also mark the 30th anniversary of the establishment of diplomatic relations between Armenia and Iran.