Politics
2022-June-19  21:53
Iran, Turkey Vow to Broaden Bilateral Ties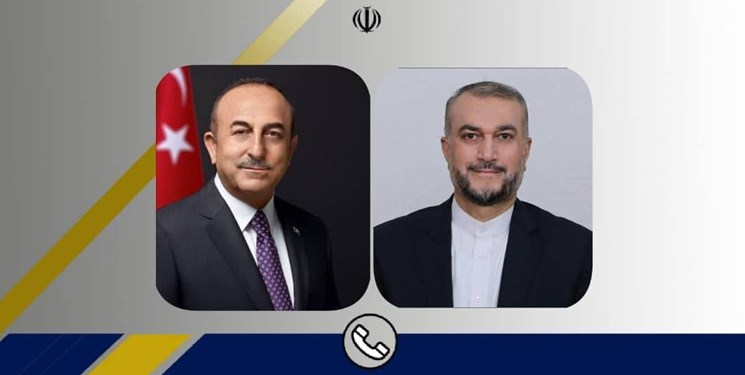 TEHRAN (FNA)- Iranian Foreign Minister Hossein Amir Abdollahian and his Turkish counterpart Mevlüt Çavuşoğlu in a telephone conversation on Sunday underlined the need to further bolster mutual cooperation in different fields.
During the phone talk today, Amir Abdollahian and Çavuşoğlu explored avenues for bolstering and reinvigorating bilateral relation in various areas. 
Çavuşoğlu once again extended an invitation to Amir Abdollahian to visit Turkey and expressed the hope that continued negotiations between the Iranian and Turkish officials will help expand bilateral relations and boost their cooperation.
Amir Abdollahian, for his part, thanked Çavuşoğlu and reaffirmed Tehran's determination to expand relations with Turkey more than ever before.
The top Iranian diplomat also expressed the hope that the two sides will hold more consultations in a bid to further expand bilateral relations.
In a relevant development in December 2021, Iranian Parliament Speaker Mohammad Baqer Qalibaf and Turkish President Recep Tayyip Erdoğan in a meeting in Turkey underlined the need to expand mutual cooperation in different fields.
During the meeting in the Turkish city of Istanbul, the Iranian parliament speaker and Turkish president explored avenues for bolstering and reinvigorating bilateral relations in various areas.
"I hope that the Vienna talks on the implementation of the nuclear agreement will be concluded fairly," President Erdoğan said during the meeting. 
Erdoğan further urged the international organizations to help Iran in dealing with the influxes of Afghan refugees.
Qalibaf, for his part, underlined that the comprehensive document of cooperation between the two countries is being finalized, which is a symbol of a serious willingness of both nations to develop relations.
The Iranian parliament speaker further said that the big powers must learn that they should not try to impose their will on other countries.
He further said an agreement in the Vienna talks will be reached if the major western powers show respect for other countries' interests.