Politics
2022-June-24  14:58
Iran: Only Regional Countries Can Decide Their Own Fate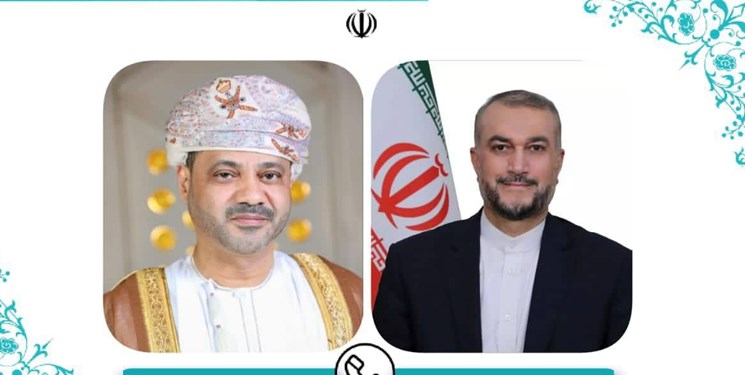 TEHRAN (FNA)- Iranian Foreign Minister Hossein Amir Abdollahian in a telephone conversation with his Omani counterpart Badr al-Bu Saidi underlined that the countries of the region must decide their own fate and future.
During the phone talk on Thursday, the Iranian foreign minister said that Iran puts special emphasis on regional dialog and cooperation and it believes that regional nations must decide the future of the region.
Amir Abdollahian, meantime, underlined Tehran's determination to expand and deepen bilateral ties with Oman.
The Iranian foreign minister, meantime, emphasized the need to pursue and implement different aspects and agreements reached by the two sides during Iranian President Seyed Ebrahim Rayeesi's visit to Oman.
Oman's foreign minister, for his part, said that the approach taken by new Iranian administration to expand of ties with regional countries is very important.
Badr al-Bu Saidi further said that his country is serious about pursuing the agreements signed by Iran and Oman during President Raeisi's recent visit to the Persian Gulf sultanate.
In a relevant development last week, Amir Abdollahian and his Omani counterpart in a telephone conversation underlined the need to expand mutual cooperation in different fields.
The Iranian and Omani foreign ministers explored avenues for bolstering and reinvigorating bilateral relations in various areas.
During the telephone conversation, Amir Abdollahian said that the Islamic Republic of Iran is strongly in favor of promoting friendly ties and dialogue between neighboring countries for the benefit of the entire region.
Referring to the recent visit of Iranian President Seyed Ebrahim Rayeesi to Oman, the Iranian foreign minister described the trip as a turning-point in Tehran-Muscat relations.
He, meantime, welcomed the visit by delegation of Oman's government to Tehran for pursuing those deals, and underlined the strong determination of both sides to press ahead with their cooperation.
Badr al-Busaidi, for his part, underlined the need for the implementation of bilateral agreements reached between Iran and Oman during President Raisi's successful visit to Muscat.
He said Oman trusts the new Iranian administration's approach which is based on the expansion of ties with the regional countries.
In a relevant development in late May, Iran and Oman signed 12 documents during the visit by President Rayeesi to Muscat in a bid to expand cooperation in economic, trade, transportation, tourism and political fields.
The 12 cooperation documents were inked by the Iranian ministers of Industry, Mine and Trade, Foreign Affairs, Road and Urban Development, and the head of the Trade Promotion Organization with their Omani counterparts.
President Rayeesi's trip to Muscat was considered the first visit by an Iranian president since the appointment of new Sultan in Oman, as well as his fifth foreign tour during his nine months in office.
Holding an official meeting in Al-Alam Palace, discussing ties with the Omani Sultan, signing documents, and holding talks with Iranian expatriates and Omani merchants were among President Rayeesi's plans in the one-day trip to the littoral state of the Persian Gulf.
An Iranian delegation of 50 tradesmen and economic operators had traveled to Oman in May in order to pave the ground for development of economic and trade ties between the two friendly countries.
Iran and Oman also agreed to jointly work on Hengam gas field.
"As the first basis of my talks with Omani Oil Minister Mohammed bin Hamad al-Rumhi, it was agreed to form a joint technical committee to develop the next phases of the Hengam oil field in a seamless manner between Iran and Oman," said Iranian Oil Minister Javad Owji said who visited Oman ahead of President Rayeesi's visit to the sultanate and agreed to revive a long-stalled project to lay an undersea pipeline to carry gas to Oman.
"Joint exploitation, in contrast to competitive exploitation, will be mutually beneficial to both countries as this method leads to less damage to the reservoir and allows for more extraction," he added.
Iran has its longest maritime border with Oman with which it has maintained the most sustained coexistence over the past five decades.
The two countries signed a memorandum of understanding in 2005 to jointly develop the Hengam oil field but the agreement did not materialize.
The project dates back to 2013 when the two countries signed a deal, valued at $60 billion over 25 years, for Iran to supply gas to Oman through an undersea pipeline. 
President Rayeesi took his "economic diplomacy" to Oman on his fifth foreign visit since taking office in August.