Politics
2022-June-28  14:04
Iranian FM: Zionist Regime Root-Cause of Crises in West Asia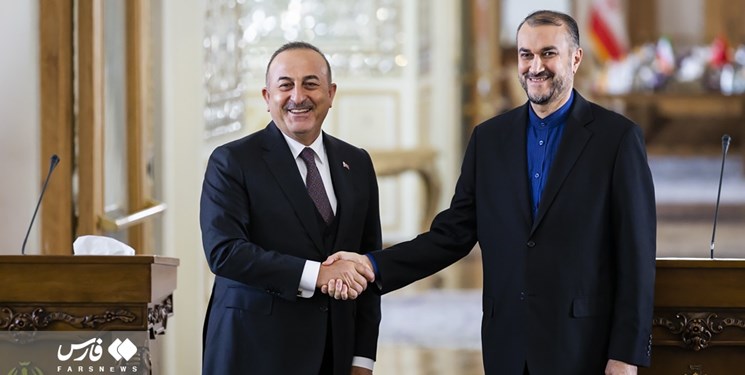 TEHRAN (FNA)- Iranian Foreign Minister Hossein Amir Abdollahian blasted the Zionist regime for fomenting crisis and insecurity in the region, calling the regime as the number one enemy of Muslim states.
Iran views the Zionist regime as the number one enemy of Muslims and the Islamic world, Amir Abdollahian said in a joint press conference with his Turkish counterpart Mevlut Cavusoglu in Ankara on Monday.
 "We are confident that Turkey will never distance itself from supporting Palestine and the cause of liberating Quds and al-Aqsa Mosque," he added.
Amir Abdollahian reaffirmed Iran's view that the Zionist regime is the root-cause of crisis in the West Asian region.
Israel has been involved in a string of sabotage attacks on Iran's nuclear facilities in recent years and has killed many top nuclear scientists and military officials in cowardly strikes.
More recently, on May 22, IRGC colonel Sayyad Khodayee was shot dead outside his home in East Tehran. Iranian officials blamed it on Israel and vowed strong retaliation. 
The New York Times on May 25 cited an intelligence official as saying that Israel had informed American officials that it was behind the assassination.
It also cited Israeli officials who claimed that Khodayee was allegedly involved in planning cross-border plots against Israelis.
Elsewhere, the Iranian foreign minister expressed hope that the US and the European trio would act realistically in round of talks between Tehran and the world powers in Doha to reach an agreement to revive the 2015 nuclear deal, JCPOA. 
Amir Abdollahian added that he held consultations with Cavusoglu over the matter and notified the top Turkish diplomat of the EU foreign policy chief's recent trip to Tehran.
He then spoke of bilateral ties with Ankara, saying as per the policy of giving priority to neighbors, President Seyed Ebrahim Rayeesi has put expansion of ties with Turkey on top of his agenda.
Amir Abdollahian said that he has provided Cavusoglu with a draft agreement for long term partnership between the two sides during his meeting with the Turkish foreign minister.
He added that the deal covers all bilateral political, economic, trade, security, military and tourism relations.
Amir Abdollahian also described his talks with Cavusoglu as constructive.
The top Iranian diplomat said he and Cavusoglu agreed on holding a meeting of the joint economic commission of Iran and Turkey in the near future.
He also said in the next two weeks, Tehran and Ankara will also hold a meeting to explore ways of tackling haze and dust as well as their adverse environmental impact.
Earlier this month, Amir Abdollahian and his Turkish counterpart in a telephone conversation had underlined the need to further bolster mutual cooperation in different fields.
During the phone talk today, Amir Abdollahian and Çavuşoğlu explored avenues for bolstering and reinvigorating bilateral relation in various areas. 
Çavuşoğlu once again extended an invitation to Amir Abdollahian to visit Turkey and expressed the hope that continued negotiations between the Iranian and Turkish officials will help expand bilateral relations and boost their cooperation.
Amir Abdollahian, for his part, thanked Çavuşoğlu and reaffirmed Tehran's determination to expand relations with Turkey more than ever before.