Politics
2022-June-28  20:07
IRGC Commander: US, Israel Enemies of Islam, Humanity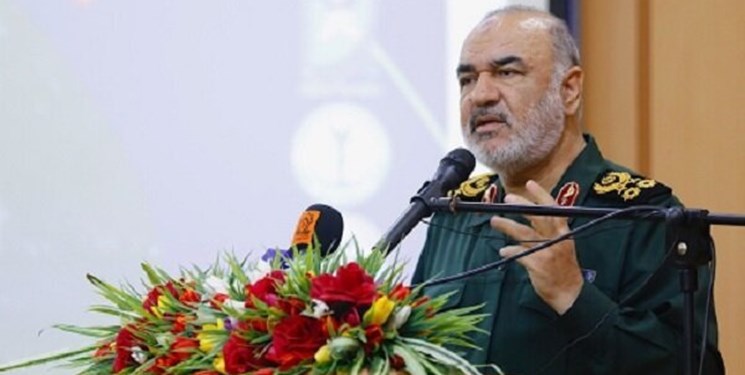 TEHRAN (FNA)- Commander of the Islamic Revolution Guards Corps (IRGC) Major General Hossein Salami described the US and Israel as main enemies of Islam and humanity, and warned Arab states of the consequences of normalizing ties with the Zionist regime.
Israel and its main ally, the US, are "enemies of Islam and humanity", General Salami said in a meeting with visiting Chairman of the Joint Chiefs of Staff Committee of Pakistan General Nadeem Raza in Tehran on Tuesday.
He criticized the policy adopted by certain Islamic countries to rely on Israel for economic and security purposes while "the occupying regime is incapable of even defending itself".
The Iranian commander warned certain Arab states of the "bitter consequences" of normalization of ties with Israel.
"The US presence in the Islamic world brings about major divisions, long civil wars, destruction of homes, displacement of people, deprivation of Muslim nations of their own wealth, and insecurity, poverty, and backwardness," General Salami.
As a case in point, he highlighted the "irreversible damage" in Afghanistan after the chaotic withdrawal of US-led forces from the country last year following two decades of occupation.
The Iranian and Pakistani commanders also discussed the cordial relations and historical bonds between the two Muslim nations, and stressed developing intelligence and military cooperation to boost border security.
In relevant remarks on Sunday, Iranian President Seyed Ebrahim Rayeesi said that normalization of relations with some Arab countries will never provide security for Israel, but will further add to the regional problems.
"The efforts made by the Zionist regime to normalize relations with regional countries will by no means bring security to this regime," Rayeesi said in a joint press conference with the visiting Iraqi Prime Minister Mustafa al-Kadhimi in Tehran.
"We and Iraq believe that peace and tranquility in the region depends on all regional officials doing their parts, and normalization [of relations] with the [Zionist] regime and the presence of foreigners in the region will solve none of the regional people's problems," he added.