Politics
2022-June-29  12:00
Iranian FM Calls for Caspian Sea Littoral States' Cooperation to Strengthen Security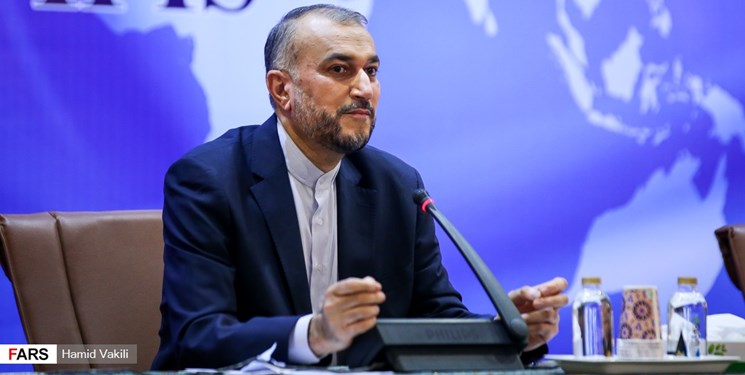 TEHRAN (FNA)- Iranian Foreign Minister Hossein Amir Abdollahian underlined the necessity for the Caspian Sea littoral states to increase cooperation to establish security in the region.
Iran constantly laid emphasis on the necessity for designing a mechanism for collective work in the fields of protecting regional security and boosting joint economic cooperation among the five Caspian neighbors, Amir Abdollahian said, addressing the Caspian Sea states ministerial meeting in Ashgabat, Turkmenistan, on Tuesday.
"This issue is highly significant in terms of the security and national interests of all the Caspian littoral states," he added.
Amir Abdollahian welcomed relevant proposals to that effect, including one put forward by Russia, saying Moscow's latest initiative would systematize and strengthen cooperation in the strategic region.
He also voiced Iran's support for the holding the second "Caspian Economic Forum" in Russia, saying that the Islamic Republic believes the five Caspian Sea neighbors need to attach special importance to trade and transportation, as two important sectors that could facilitate growth and development in those countries.
It has been four years since the signing of the Convention on the Legal Status of the Caspian Sea, Amir Abdollahian said.
In this regard, although we have taken an important step, very important issues still remain unresolved, such as "the designation of maritime zones" and "the demarcation of basins and sub-basins", the minister added.
Iran, Azerbaijan Republic, Kazakhstan, Russia and Turkmenistan are the five Caspian littoral states.
In relevant remarks in April, Amir Abdollahian said that his country attaches much importance to increased cooperation among the Caspian Sea littoral states.
Amir Abdollahian made the remarks in a phone conversation with his Turkmen counterpart Raşit Meredow on several regional and international issues as well as the Tehran-Ashgabat ties.
He pointed to the continuous development of friendly relations between Iran and Turkmenistan, emphasizing the positive view of the Islamic Republic of Iran on the expansion of the relations in all fields, specially the need to increase cooperation between the Caspian Sea littoral states.
"The Islamic Republic of Iran has always welcomed regional cooperation and joint working meetings to further develop relations, especially in the Caspian Sea region," Amir Abdollahian said.