Politics
2022-July-1  18:41
FM: Iran Supports Political Solution to Ukraine Crisis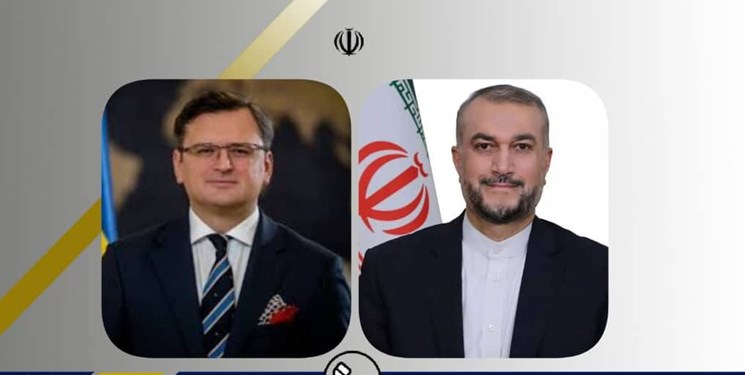 TEHRAN (FNA)- Iranian Foreign Minister Hossein Amir Abdollahian in a telephone conversation with his Ukrainian counterpart Dmitry Kuleba renewed Iran's support for a political solution to the crisis in Ukraine.
"Iran does not consider war as a suitable solution to solve problem between Russia and Ukraine," Amir Abdollahian said in his phone talk with Kuleba on Thursday night.
The Iranian foreign minister said that the Islamic Republic of Iran is ready to pursue a diplomatic solution and make good efforts to end the crisis in Ukraine.
"We have announced from the very beginning that while considering the root cause of the crisis, we are opposed to resorting to war and do not think war is a suitable solution to problems," he added. 
The top Iranian diplomat also said Iran's relations with Ukraine have always been based on friendship, respect and mutual interests over the past three decades.
He pointed out that Tehran is ready to participate in an agreement for the opening of a corridor for transportation of cereals in the Black Sea.
The Iranian foreign minister also invited his Ukrainian counterpart to visit Tehran.
Ukraine's foreign minister, for his part, thanked Iran for its opposition to war, and said that Ukraine is ready to receive any political assistance or support to end the crisis in his country.
Kuleba also announced Ukraine's readiness for all-out expansion of ties with Iran, including in the field of agriculture and cereals.
He described the continuation of talks between Tehran and Kiev for expanding ties as constructive.
Kuleba outlined the latest conflict situation in his country and thanked Iran's valuable efforts to end the war.
He also invited Amir Abdollahian to pay an official visit to Ukraine.
In relevant development in early March, Iranian President Seyed Ebrahim Rayeesi announced his country's preparedness to help diplomatic efforts to end the war in Ukraine.
"The Islamic Republic of Iran supports any effort that would lead to peaceful settlement of the [ongoing] conflict in Ukraine and is ready to play a role to help restore peace in any possible manner," Rayeesi said.
"Based on the fundamental principles of its foreign policy, the Islamic Republic of Iran opposes both hegemony and submission to hegemony, and gives its backing to the right to all nations to self-determination," he said.
Rayeesi underlined the need to protect territorial integrity and the national sovereignty of all countries, and said, "The Islamic Republic of Iran understands security concerns arising from several decades of NATO's expansionism."
"We strongly believe that diplomacy and sincere adherence to international obligations by all parties provide the sole lasting and just way out of the current situation."
The Iranian president also stressed that all parties to the Ukraine conflict must be serious about protecting the lives and property of citizens and civilians and observing the principles of international and humanitarian law.