Politics
2022-July-3  12:31
Top Diplomat Reiterates Iran's Opposition to Foreign Intervention in Region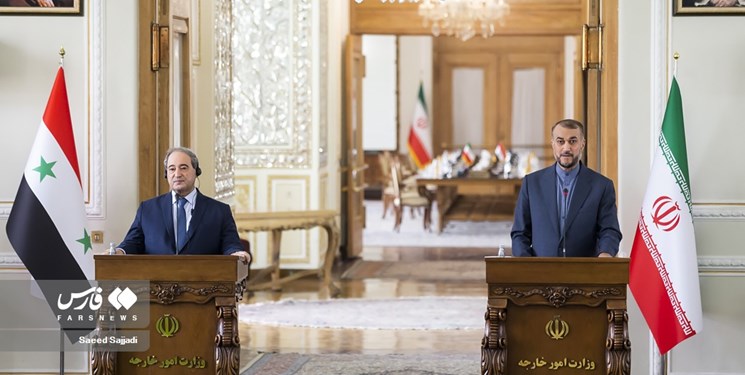 TEHRAN (FNA)- Iranian Foreign Minister Hossein Amir Abdollahian said that foreign intervention in the region would further complicate the situation, warning that Turkey's military operations in Northern Syria would increase insecurity.
Amir Abdollahian made the remarks in a joint press conference with his Syrian counterpart Faisal Mikdad in Damascus on Saturday.
He said that any intervention by the foreign forces in the region is wrong and it will make the situation more complicated in the region.
Amir Abdollahian also noted that any kind of military operation in Northern Syria will cause regional instability.
Elsewhere, he said that it doesn't need to say that Iran-Syria relations are strategic.
"We will stand beside Syria with all our power in its fight against terrorism," Amir Abdollahian said. 
"We are against any military action against Syria," the Iranian foreign minister added while reaffirming Iran's preparedness for giving any plan to resolve Syria's political crisis.
Heading a delegation, Amir Abdollahian was officially welcomed by Mikdad in Damascus on Saturday.
Upon arrival in the Syrian capital city, he told journalists that President Assad's recent visit to Tehran was a turning point in bilateral relations.
"During that trip, we entered a new phase of comprehensive cooperation between the two countries, including in various economic and commercial fields," he said.
"Today marks a very good opportunity to discuss with my colleague Mr. Faisal Mikdad the latest state of relations between the two countries," the top Iranian diplomat added.
Elsewhere in his remarks, Amir Abdollahian said Iran strongly condemns the Israeli regime's violation of Syria's territorial integrity.
"Along with the sanctions imposed against the resistant people of Syria, the Zionists seek to destabilize (Syria) and increase the problems of the Syrian people," he said.
President Assad visited Tehran in May, and held talks with Supreme Leader of the Islamic Revolution Ayatollah Seyed Ali Khamenei and President Ebrahim Rayeesi.
Before departure to the Arab country, Amir Abdollahian said that during his visit to Damascus he would pursue establishment of peace between Syria and Turkey.
"My trip to Syria is partly meant to establish peace and security in the region between Syria and Turkey, as two countries with which the Islamic Republic of Iran has important relations," Amir Abdollahian said on Saturday.
He further said he would meet with Syrian President Bashar al-Assad and Mikdad and other high-ranking Syrian officials during the trip to push bilateral relations and review regional and global developments.
The Iranian foreign minister's visit comes days after he met with Turkish officials in Ankara as part of his regional tour.
Ties between Damascus and Ankara soured after Turkey launched several incursions into Northern Syria.
Ankara says the militants affiliated with the Kurdistan Workers' Party (PKK) have been fighting a separatist war against Turkey.
However, Damascus complaints that the Turkish offensive violates Syria's territorial integrity.
Iranian President Seyed Ebrahim Rayeesi said last Monday that his country supports peace and stability all across the world.
Supporting peace, stability, and progress has always been the principled policy of the Islamic Republic of Iran at the international level, President Rayeesi said in a meeting with the new ambassador of Montenegro.