Politics
2022-July-5  14:57
President: Removal of Sanctions Prerequisite for Agreement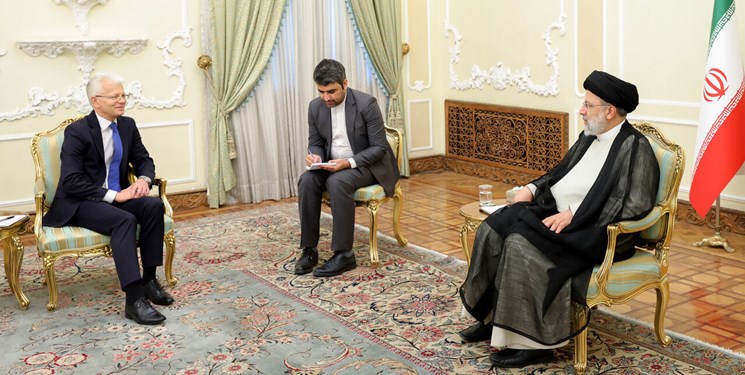 TEHRAN (FNA)- Iranian President Seyed Ebrahim Rayeesi reiterated that removal of sanctions against his country is a prerequisite for striking a deal with the world powers.
President Rayeesi made the remarks in a meeting with Lithuania's accredited ambassador to Tehran Richard S Digotis on Monday.
During the meeting, he slammed the US and its allies for adoption of an anti-Iran resolution at the International Atomic Energy Agency (IAEA) Board of Governors amid the JCPOA revival talks.
Rayeesi said the "brazen" move by the US and European states run counter to the rules of the JCPOA and talks about its revival.
"The removal of cruel sanctions against Iran will prepare the ground for an agreement and cooperation," he underscored.
President Rayeesi emphasized that the western countries should remain committed to their undertakings as per the JCPOA.
"As verified by all observers, the Islamic Republic of Iran has lived up to its commitments based on the agreement but instead, the US has withdrawn from this deal and the European countries have also reneged on their commitments," he said.
The IAEA's Board of Governors adopted the resolution on June 8, accusing Iran of not cooperating with the agency. The resolution was approved with 30 votes in favor, two against and three abstentions.
It came as Iran and the five remaining parties to the multilateral deal, officially known as the Joint Comprehensive Plan of Action (JCPOA), have held several rounds of negotiations in the Austrian capital of Vienna since April last year to restore the agreement, which was unilaterally abandoned by former US President Donald Trump in May 2018.
In quitting the agreement, Trump restored sanctions on Iran as part of what he called the "maximum pressure" campaign against the country. Those sanctions are being enforced to this day by the Joe Biden administration, even though it has repeatedly acknowledged that the policy has been a mistake and a failure.
Iranian Foreign Minister Hossein Amir Abdollahian said on Friday that the JCPOA revival talks can succeed if the US acts realistically and provides Tehran with robust guarantees that it will be able to fully reap the economic benefits of the deal.