Politics
2022-July-16  14:24
Iran Condemns Bolton's Coup Confession As Another Proof of Illegal Interventions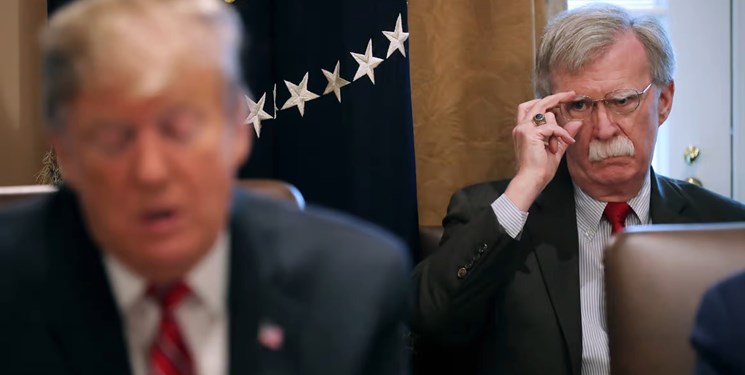 TEHRAN (FNA)- Iran condemned former US National Security Advisor John Bolton after his public admission of involvement in plotting coups abroad, but said such confessions are not surprising and Washington should change its behavior.
Iranian Foreign Ministry Spokesman Nasser Kana'ani wrote in his Twitter account on Friday that Bolton's boasting of his role in attempted coups around the world made no one surprised.
"Open secret - nefarious activities of a notorious government - made public," he added.
The spokesman reiterated that good news that those policies, including "last resort" threats, have failed and will continue to fail.
"US have to change course," he stressed.
On Tuesday, Bolton admitted in an interview with CNN that he has helped plan coups in other countries. Bolton has served in top positions for several administrations since the 1980s. 
Diplomats from Russia, China, and Venezuela have condemened the Bolton's confession, as interference in the internal affairs of other countries is characteristic of Washington.
Chinese Foreign Ministry Spokesman Wang Wenbin said Wednesday Washington's interference in the internal affairs of other states is inherent in the United States' "code of conduct."
Speaking in a daily news briefing on Wednesday, the Chinese official said, "It is not surprising that former senior US officials have admitted that they had planned coups in foreign countries."
Russian Foreign Ministry Spokeswoman Maria Zakharova also said on Wednesday the statement of Bolton on the involvement in the organization of coups is an absolutely new revelation for an American politician that requires an analysis. 
Though long before Bolton's era, Iran is also familiar with such US moves as it went through a US-orchestrated coup in 1953.
In August of that year, British and American spy agencies led the coup against Prime Minister Mohammad Mosaddeq of Iran. He nationalized Iran's oil industry, which had been mainly controlled by the British-owned Anglo-Iranian Oil Company.
In early January, the Iranian Foreign Ministry declared sanctions against several persons - including Bolton, Foremer President Donald Trump, Former Secretary of State Michael Pompeo - who have ordered, perpetrated or cooperated in the assassination of the country's anti-terror commander, Lieutenant General Qassem Soleimani.
Gen. Soleimani, his Iraqi trenchmate Abu Mahdi Al-Muhandis, the second-in-command of Iraq's PMU, and ten of their deputies were martyred by an armed drone strike as their convoy left Baghdad International Airport in January 2020.