World
2022-July-18  13:18
Moscow Warns Ukraine of Doomsday in Case of Its Attack on Crimea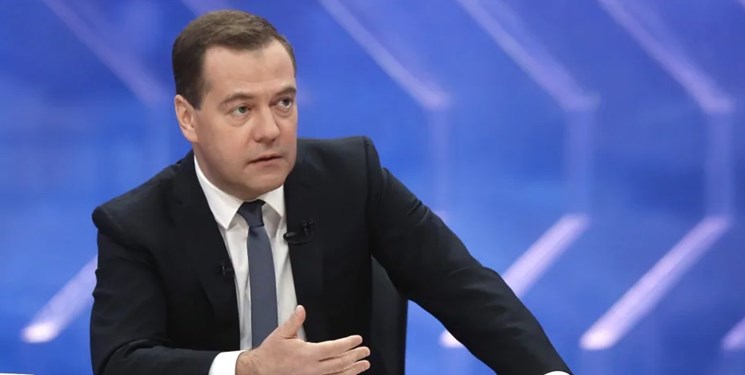 TEHRAN (FNA)- Ukraine's leadership will immediately be faced with a doomsday should it venture to attack Crimea, Deputy Chairman of the Russian Security Council Dmitry Medvedev said on Sunday.
"Some ecstatic bloody clowns, who pop up there with some statements now and then, are trying to threatens us, I mean attacks on Crimea and so on," he said at a meeting with WWII veterans during his trip to Russia's Southern city of Volgograd. According to Medvedev, consequences of such Ukraine's actions are quite obvious, TASS reported.
"Should anything of the kind happen, they will be faced with a doomsday, very quick and tough, immediately. There will be no avoiding it. But they keep on provoking the general situation by such statements," he stressed.
According to Medvedev, Kiev will sooner or later see that the goals of Russia's special operation - demilitarization and denazification of the country - will be ultimately attained. But the hope for it "is quite weak as they are behaving inadequately," he noted.
"Endless attempts at continuing this campaign, as it is said today until the last Ukrainian, will obviously lead to the collapse of the current political regime, despite their efforts to fight back," he added.
He described the current situation as "a very difficult page of modern history".
"But I am convinced that the country will emerge from this trial with dignity, will become stronger. And we will attain our goals for the sake of the development of our country," he stressed.
NATO's expansion is a direct threat to Russia, that is why Russia's special operation in Ukraine was a forced decision, Medvedev said.
"You know which goals were set by the president of our country when he made a decision to conduct a special military operation. It was a forced decision," he said.
He recalled that in the recent decades no one wanted to hear Russia's concerns.
"About the endless, non-stop expansion of NATO, the refusal to reckon with our concerns, Ukraine's refusal to settle the conflict that flared up in 2014 and that caused sufferings to lots of people in Donbass," he said, "Nobody was ready to hear that as though there were no such problems. NATO is no threat to you - what's the big deal, a couple of countries more. As a matter of fact, we see it perfectly well that it is an open and direct threat, especially in conditions of what happened to Crimea," he added.
He cited the situation around Crimea as an example.
"If any state, either Ukraine or a NATO country, thinks that Crimea is not part of Russia, it is a systemic threat to for us. And if such a country is a member of a hostile bloc <…>, it is a permanent threat for us," he stressed.
So, in his words, if power in Ukraine is in the hands of "another frenzy nationalist or a weak figure, a conflict, up to an attack, is inevitable".
"That is why the [Russia] president [Vladimir Putin] made this decision," he added.
Russia has the right to self-defense, hence its special operation in Ukraine complies with the principles of the United Nations Charter, he added.
"This decision is in full compliance with the rules and principles of the United Nations Charter. Bearing in mind that each country has the right to self-defense, <…> a state has the right to preventive self-defense. And this should be borne in mind," he said.
"It is not a mere response to someone's hostile actions, but it is a preventive measure to neutralize a military threat," he stressed.
"And this military threat, regrettably for our country, originated from a former part of our common state, which is especially tragic and sad for us. Well, we know that the Ukrainians are no enemies to us. But those people who have power there, the nationalist circles <…>, they are a real threat to our security," he said.
They, according to Medvedev, are a threat to Donbass' security, a lot of people who "have found themselves sandwiched between the Ukrainian regime" and Russia's territory.
Russia cannot ignore the threats coming from NATO, which has state-of-the-art weapons targeted at Russia, he said.
"It happened so that after the Warsaw Pact ceased to exist, our neighbors, who were NATO members, did not dissolve but continued to consolidate. They did not make any symmetrical steps and, despite various promises they have been giving for 30 years, have admitted more countries to the North Atlantic alliance and expanded closer to the borders of our country. Their goals remained unchanged and their state-of-the-art weapons are still targeted at our country. No one has pulled them out," he said, adding that our country continues to be the target of their nuclear arsenals.
"We cannot be indifferent to that," he stressed, adding, "Despite our efforts to build friendly relations, life is life and the Cuban Missile Crisis in the 1960s, other developments on the planet and the current situation show that. If you don't retaliate, if you ignore such threats, it ends up very sadly."
"A threat of the loss of sovereignty may not be that dangerous for a small country as it is part of an association of countries, which supports it," he noted.
"It is fatally dangerous for our country, which is unique. If we don't defend ourselves, we won't exist at all. The entire history of the 20th century proves it," he added.
"We must learn the lessons of history, but we should be prepared for the fact that a range of countries are ignoring these lessons," he warned.
The West has been consistently pursuing a policy of curtailing Russia's development, as it envies the country and is scared of it, he said.
"The problem is the so-called collective West is still seeking to put brakes on our development," Medvedev said.
He said Western countries had been uttering "formal courtesies" about episodes of unity between Russia and the West, but "this does not mean anything".
"The United States and a number of European countries are deeply interested in having the development in Russia held up as much as possible," the Security Council deputy head emphasized.
"They in some ways envy us and our capabilities, and they are probably scared of us, with that conceptual task of theirs being their priority that does not change from year to year and is passed from one government to another," Medvedev concluded.