Iran to Send Another Satellite into Orbit within Months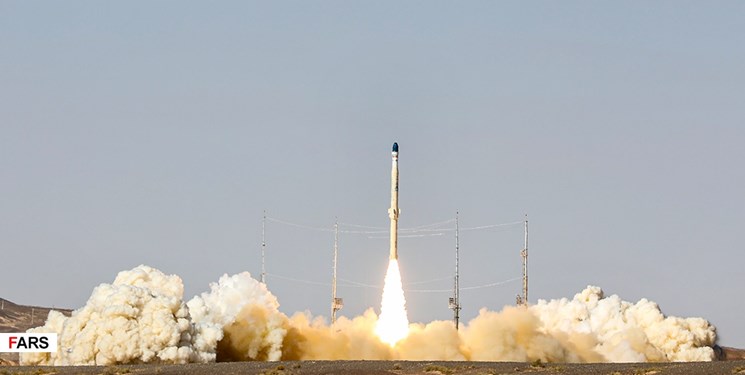 TEHRAN (FNA)- Head of Iran's Space Organization Hassan Salarieh stated on Saturday that Tehran has plans for developing telecommunication satellites, adding that one of the spacecrafts under construction will be placed in high-altitude orbits in coming months.
"In the field of remote-sensing satellites, we have built a number of indigenous satellites under sanctions. We currently possess satellites that have reached the launch level," Salarieh said, without specifying the number.
"We have special programs for telecommunication satellites designed to operate at high altitudes, and several telecommunication satellites are currently in line for launch," the deputy minister of communications added.
Given the rate of the Earth's rotation speed, telecommunication satellites move and carry out their missions in a 36,000-kilometer orbit, Salarieh noted.
"At present, each of the orbits of the Earth is found to have a special usage, and due to the various applications of the space industry, some of these orbits have become very well known," he continued.
Salarieh elaborated on the services that satellite provide. As a case in point, he said, "the issue of land subsidence is a problem in our country caused by a drought over the past years and excessive usage of underground water resources."
"The challenge can be overcome with the help of satellites," the official stated.
In late June, Iran tested its domestically-developed hybrid-propellant satellite carrier rocket called Zuljanah for "predetermined research purposes" for the second time.
Spokesman for Iran's Defense Ministry Ahmad Hosseini explained that the three-phased Zuljanah is competitive with the world's top satellite carriers in technical aspects, noting that it has two solid propulsion phases and a single liquid propulsion phase.
The official added that the third development phase of the satellite carrier has started.
The Iran's Defense Ministry launched the Zuljanah satellite carrier into space for the first time in February 2021.
Iran, which long has stressed it does not seek nuclear weapons, maintains its satellite launches and rocket tests do not have a military component.
Iranian President Underlines More Progress in Development of Space Technologyhttps://t.co/YROQL1hGWK pic.twitter.com/cZfdlIsH6T

— Fars News Agency (@EnglishFars) March 14, 2022
Earlier this year, the commander of the aerospace division of Iran's Islamic Revolution Guards Corps (IRGC) said the country has mastered the technology of satellite carriers and tested its first such carrier using solid fuel.
"From now on, Iran will be able to launch a great number of satellites using low-cost engines," Brigadier General Amirali Hajizadeh told a gathering of religious scholars in the Iranian city of Qom on January 13.
Elaborating on the test on an Iranian satellite carrier engine operating on solid fuel, Hajizadeh stated the test was "successfully carried out for the first time" in the country.
"During the past two years, all Iranian satellite carriers, which were tested, operated on liquid fuel. But in this test, we succeeded to use the solid-fuel engine with a 66-tonne thrust," the commander added.