World
2022-July-23  17:24
Iraq's Anti-Terror Hashd Al-Sha'abi Unveils New Achievements During Military Parade to Mark 8th Anniversary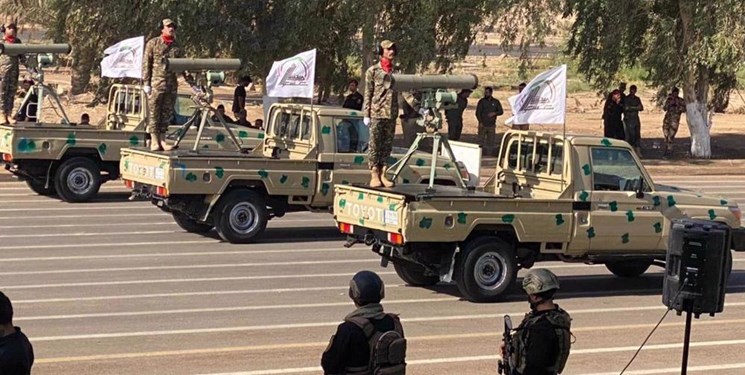 TEHRAN (FNA)- Iraq's anti-terror resistance group Popular Mobilization Units (PMU), also known as Hashd Al-Sha'abi, unveiled several new indigenously-developed achievements during a military parade in the Eastern Diyala province to mark the eighth anniversary of its formation.
The military achievements, dubbed Rased (Monitor) and Haseeb (Auditor), reportedly unmanned aerial vehicles to be controlled remotely either directly by a pilot or autonomously by an onboard computer, presstv reported.
Additionally, a slew of optimally overhauled Russian battle tanks were also put on display. 
The Saturday ceremony in the town of Al-Khalis, located roughly 15 kilometers (9 miles) Northwest of the provincial capital city of Baqubah, was attended by Prime Minister Mustafa Al-Kadhimi, Chairman of the Popular Mobilization Forces Falih Al-Fayyadh, head and Secretary General of the Badr Organization Hadi Al-Amiri and a number of other high-ranking military officials.
On June 15, 2014, Iraq's prominent Shia cleric Grand Ayatollah Ali Al-Sistani issued a fatwa that called on all Iraqi people to join forces with the army to confront Daesh (also known as ISIL or ISIS) Takfiri terrorist group.
The historic fatwa led to a mass mobilization of popular volunteer forces under the banner of Hashd Al-Sha'abi. The force then rushed to the aid of the army and took the lead in many of the successful anti-terror operations, which ultimately led to the collapse of Daesh's territorial rule and liberation of the entire Iraqi land in December 2017.
Hashd Al-Sha'abi is an Iraqi government-sponsored umbrella organization composed of around 40 factions of volunteer counter-terrorism forces, including mostly Shia Muslims besides Sunni Muslims, Christians and Kurds.
Its formation goes back to the summer of 2014, shortly after Daesh, the world's most notorious terror group, managed to occupy large swathes of territory in Iraq.
The lightning gains made by the terrorists caught Iraq's national army off guard, pushing government forces to the verge of collapse and leaving the Arab state in disarray.
In November 2016, the Iraqi parliament recognized Hashd Al-Sha'abi as an official force with similar rights as those of the regular army, therefore legally establishing it as part of the National Armed Forces.
The United States views the popular force as a threat and has been seeking to dissolve it and constrain its role. The US has also targeted Hashd Al-Sha'abi fighters in a bid to resurrect Daesh.