Politics
2022-August-1  17:02
AEOI Chief Underlines Iran's Opposition to Military N. Drive Despite Capability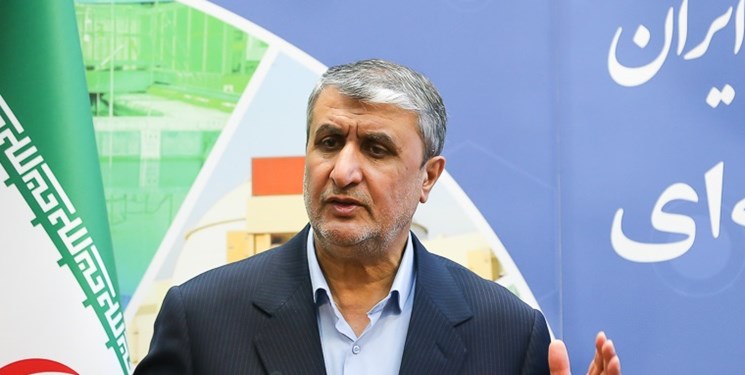 TEHRAN (FNA)- Head of the Atomic Energy Organization of Iran (AEOI) Mohammad Eslami on Monday said Tehran enjoys the capability to develop a military nuclear program, but has no intention to do so.
"As Mr. [Seyed Kamal] Kharazi [Head of Iran's Strategic Foreign Relations Council] stated, Iran has the technical ability to build an atomic bomb, but such a program is not on agenda," Eslami told FNA.
The nuclear chief highlighted that these accusations are being raised by "the Zionist regime to deceive the public opinion".
Tehran says it is refining uranium only for civilian energy uses, adding all nuclear activities of Iran are under the supervision of the International Atomic Energy Agency, and the IAEA's verification activities and reports have proved the peaceful nature of the country's nuclear program.
Iranian officials have numerously stressed that the country has not been and is not after developing nuclear weapons.
Elsewhere in his remarks, Eslami noted the possible military dimension (PMD) accusations leveled by the West against Iran's nuclear program stem from the Mojahedin-e Khalq Organization (MKO) terrorist group and the Tel Aviv regime.
READ MORE: AEOI Chief Says Iran Not to Turn on Beyond-Safeguards Cameras Before JCPOA Revival
"After withdrawing from the nuclear deal, the Western side to the agreement raised false accusations again. Therefore, it was decided to turn off all the JCPOA-related cameras," he stated.
"If the other side decides to return to the accord, then should not raise such false accusations," he stated, 0therwise, they should not take the time of the other parties.
Iran's Leader Blasts US for Lies About Opposition to N. Weaponshttps://t.co/sc82aE6f5h pic.twitter.com/jcaoItPAx5

— Fars News Agency (@EnglishFars) March 11, 2021
Iranian Supreme Leader Ayatollah Seyed Ali Khamenei has on many occasions stated the Islamic Republic considers the pursuit and possession of nuclear weapons "a grave sin" from every logical, religious and theoretical standpoint.
In April 2010, Ayatollah Khamenei issued a fatwa declaring that the production, stockpiling, and use of nuclear weapons are all haram (religiously banned).
"Iran is not after a nuclear bomb. Why would Iran want a nuclear bomb? Moreover, when an atomic bomb is detonated, it does not just kill enemies. Rather, it kills innocent people as well, and this goes against Islamic beliefs and the principles of the Islamic Republic of Iran. An atomic bomb does not discriminate between good and bad people, and it is not something that the Islamic Republic would use," a part of the fatwa said.
The Islamic Republic is relying on something that is not affected by bombs, foreign invasions and other such things. Such things only strengthen what the Islamic republic is relying on. The Islamic republic is relying on the people," it added.