Politics
2022-August-2  11:19
AEOI Spokesman: Iran Starts Injecting Gas into Hundreds More IR6 Centrifuges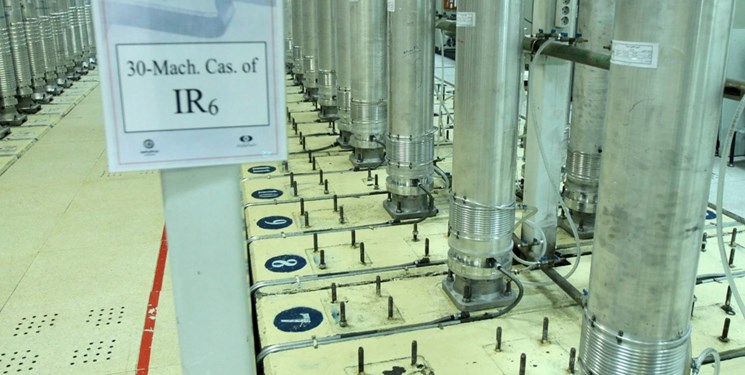 TEHRAN (FNA)- The Atomic Energy Organization of Iran has started injecting gas into hundreds of new centrifuge machines, (AEOI) Spokesman Behrouz Kamalvandi said.
Kamalvandi said that the order to launch and inject gas to hundreds of centrifuges including IR1 and IR6 advanced machines was issued on Monday evening.
He also added that the International Atomic Energy Agency (IAEA) has already been informed of the measure. 
"The order is in line with the implementation of the Law on Strategic Action on Removing Sanctions and Safeguarding the Interests of the Iranian nation," the official continued.   
The official stated that "the order also aims to fulfill the target of enrichment using 190,000 separative work units (SWUs), which is the least amount that the country needs". 
The Law on Strategic Action on Removing Sanctions and Safeguarding the Interests of the Iranian nation was approved by parliament in December 2020. The legislation obliged the Executive to enrich uranium at the 20% purity level, among other things.
It also set a series of directions in response to the West's refusal to remove sanctions and fulfill its commitments under the 2015 nuclear deal known as the JCPOA.
Iran's N. Chief: MPs Emphasize on Legalization of Nuclear Roadmap pic.twitter.com/Ac7uj91Q8O

— Fars News Agency (@EnglishFars) August 1, 2022
In an interview with Iran Daily on Monday, Kamalvandi also noted that it is pointless for Iran to try to make a nuclear bomb, because the country is already powerful enough to defend itself without nukes.
"Iran's strategic potential and military power is deterrent enough to repel any foreign threats, thus rendering it pointless for the country to design and develop nuclear weapons," he said.
The comments came hours after AEOI Chief Mohammad Eslami was quoted by media as saying that Tehran has technical capability to build an atomic bomb but it does not have such an intention.
Kamalvandi explained that Eslami was "misunderstood and misjudged" by some media, adding that what had been attributed to him runs counter to Iran's official stance on the prohibition of weapons of mass destruction.
Iran's Foreign Ministry said there has been "no change" in the country's nuclear policy.
"On the issue of weapons of mass destruction, we have the fatwa of the Leader, which prohibits the production of such weapons," Spokesman Nasser Kana'ani told reporters.
"Iran's nuclear capabilities are important, but as has been mentioned on numerous occasions, Iranian nuclear technology is entirely peaceful and subject to constant surveillance by the International Atomic Energy Agency," he stated.