Politics
2022-August-10  18:33
Iranians Strongly Condemn Israeli Massacre of Gazans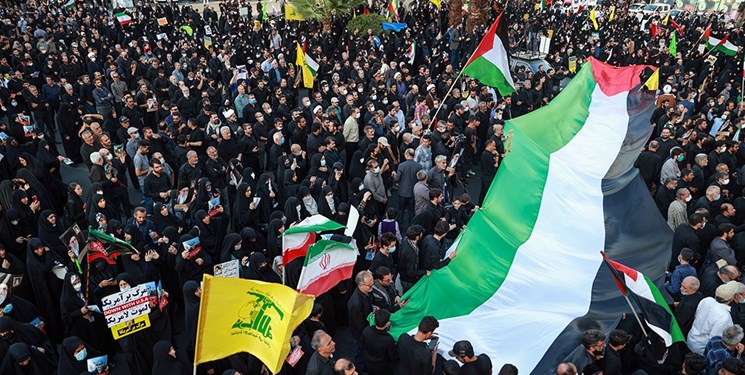 TEHRAN (FNA)- Iranians from all walks of life gathered in capital Tehran to express their support for the Palestinian people, and rapped the Israeli regime for its deadly raids on the besieged Gaza Strip.
The protesters gathered near Palestine Square in Tehran, where the Palestinian Embassy is located, on Tuesday, carrying placards and flags of Palestine and the resistance movements.
The demonstrators chanted slogans against the US, the UK and the Israeli regime and reiterated their support for the Palestinian people, who stood firm against Israel's latest wave of strikes on the besieged enclave.
In their final statement, the protesters said the decades-long resistance of Palestine in the face of the usurpers of Al-Quds has today become more powerful thanks to unity among the Palestinian resistance groups.
In the recent Israeli war, the resistance movement fired more than 1,000 rockets and forced the Zionists to humiliatingly beg for a ceasefire based on the conditions of Islamic Jihad, the statement read, adding that this shows the hit-and-run era has come to an end for the Zionists and their supporters.
It noted the enhanced capacities and deterrence power of the Palestinian resistance has changed the equations and showed that the zealous and brave Palestinians would give crushing responses to the slightest moves of the Israeli regime.
Iran: 'Child-Killing' Israeli Regime Can't Escape Inevitable Fatehttps://t.co/g5JM4L22Wf pic.twitter.com/FA8pOgE13D

— Fars News Agency (@EnglishFars) August 9, 2022
Israel unleashed a wave of air raids on the Gaza Strip since Friday, killing more than 40 people, including several children and women, and wounding over 350 others. In response to the Israeli aggression, Palestinian resistance forces fired almost 1,000 rockets at the occupied territories, setting off air raid sirens and sending settlers running to bomb shelters.
After three days of heavy Israeli bombardment on the besieged enclave, the Tal Aviv regime and the Palestinian resistance movement Islamic Jihad declared a truce late Sunday.
The international community has strongly condemned the latest Israeli air raids in the Gaza Strip, voicing its deep concern over the latest rounds of violence by the Tel Aviv regime against Palestinians in the besieged coastal enclave.
Iran describes Israel as the root cause of instability in the region, but says the regime's US-supported barbarity will not change the inevitable fate of the Tel Aviv regime.
Iranian President Seyed Ebrahim Rayeesi strongly condemned the new crime committed by Tel Aviv in the Gaza Strip, and said the Israeli regime is on a fast-track towards decline because of the resistance of the Palestinian people in the besieged enclave.
"Through its crime last night, the Zionist regime once more showed its occupationist and aggressive nature to the world," President Rayeesi stated on Saturday.
He praised the Palestinians for standing firm in the face of Israeli atrocities, and added, "The resistance of the people of Gaza will speed up the decline of this child-killing regime."