Politics
2022-August-10  19:11
IRGC Commander Vows to Continue Arming Palestinian Factions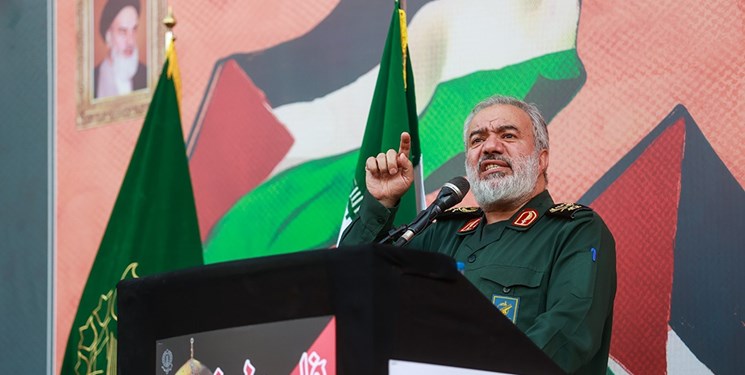 TEHRAN (FNA)- Deputy Commander of the Islamic Revolution Guards Corps (IRGC) Rear Admiral Ali Fadavi strongly condemned the Israeli attacks against civilians in the Gaza Strip, and underlined the necessity for arming the Palestinians with weapons to enable them to defend themselves.
Addressing a gathering in Tehran on Tuesday in support of the Palestinians and denouncing the Israeli regime's latest military raid on the Gaza Strip, Rear Admiral Fadavi said that the IRGC will continue supplying Palestinians with arms.
The general pointed to Leader of the Islamic Revolution Ayatollah Seyed Ali Khamenei's emphasis on supporting Palestine and the assistance that late Iranian commander Lieutenant General Qassem Soleimani provided for Palestinians, noting that "this process is permanent. The Islamic Revolution (Guards) Corps will steadily support them (Palestinians), and this is our duty".
Top commander then criticized some Islamic governments for supporting the Zionist regime at the expense of the Palestinians.
"The Islamic Revolution of Iran is doing the right thing and the Islamic governments must not follow in the footsteps of the falsehood," Fadavi continued.
READ MORE: IRGC Says Israeli Regime Unable to Buy Security through Normalizing Ties with Arab Nations
He also stated that the "Zionist regime's evils" took a stupid measure by attacking Gaza and once again suffered a defeat.
He said that the falsehood front will have to accept the terms of the righteousness front, and this happened in the case of the latest Israel war on Gaza which ended after Tel Aviv gave in to a truce.
Iran's Leader Vows End of 'Virus of Zionism' in Near Futurehttps://t.co/5iPxSRavma pic.twitter.com/1dnmfLJH8L

— Fars News Agency (@EnglishFars) May 22, 2020
The Palestinian Health Ministry has confirmed that the Israeli regime's attacks had since Friday left at least 45 people, including women, children and two senior commander, dead and 350 wounded.
In response to the Israeli strikes, Palestinian resistance forces fired almost 1,000 rockets at the occupied territories, setting off air raid sirens and sending settlers running to bomb shelters.
Iran describes Israel as the root cause of instability in the region, but says the regime's US-supported barbarity will not change the inevitable fate of the Tel Aviv regime.
Iranian President Seyed Ebrahim Rayeesi strongly condemned the new crime committed by Tel Aviv in the Gaza Strip, and noted the Israeli regime is on a fast-track towards decline because of the resistance of the Palestinian people in the besieged enclave.
"Through its crime last night, the Zionist regime once more showed its occupationist and aggressive nature to the world," President Rayeesi stated on Saturday.
He praised the Palestinians for standing firm in the face of Israeli atrocities, and added, "The resistance of the people of Gaza will speed up the decline of this child-killing regime."