Politics
2022-August-10  22:52
Top General: Iranian Armed Forces Contributing to Development of Other Industries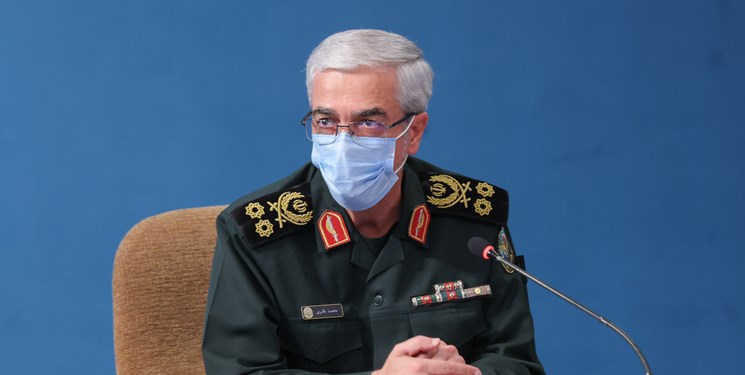 TEHRAN (FNA)- Chief of Staff of the Iranian Armed Forces Major General Mohammad Hossein Baqeri highlighted the major advances in the country's military industries, and said that the armed forces are committed to meet the needs of the country's strategic and infrastructural sectors.
Visiting an exhibition putting on display the defense ministry's capabilities in production and boosting the country's knowledge-based economy on Wednesday, Major General Baqeri noted the defense sector is a multi-faceted industry that can facilitate progress in a series of other fields.
"The armed forces are committed to supporting the needs of the country's strategic and infrastructural sectors by observing all technical requirements and industrial standards, with the minimum price and proportional to the needs of various sectors," top commander stated.
"The defense industry is today at the cutting edge of technology and is definitely capable of facilitating progress in other sectors such as environmental science, medicine, nuclear program, cyberspace, engineering, and transportation," military chief noted.
Maj. Gen. Bagheri also praised the Defense Industry's increasing cooperation with the country's car manufacturers and the petrochemical sector.
"The growing defense achievements show decreasing reliance on foreigners, despite all the tough economic sanctions in place against the Islamic Republic," he added.
On the sidelines of an exhibition to showcase the defense ministry's capabilities and achievements on Friday, Iranian Defense Minister Brigadier General Mohammad Reza Ashtiani said his ministry has experienced a 2.5-fold increase in its non-military products and services to the private and industrial sectors from the beginning of the current Iranian year.
"Supporting the armed forces with equipment and weapons is one of the inherent duties of the ministry of defense, but shoring up the country's industrial growth is also defined as one of our duties," he continued.
"The ministry of defense operates in various fields, including aviation, maritime, land, railways, electronic and engineering, oil and petrochemicals," the minister added.