Politics
2022-August-11  17:29
President Rayeesi Reiterates Iran's Opposition to Geopolitical Changes in Region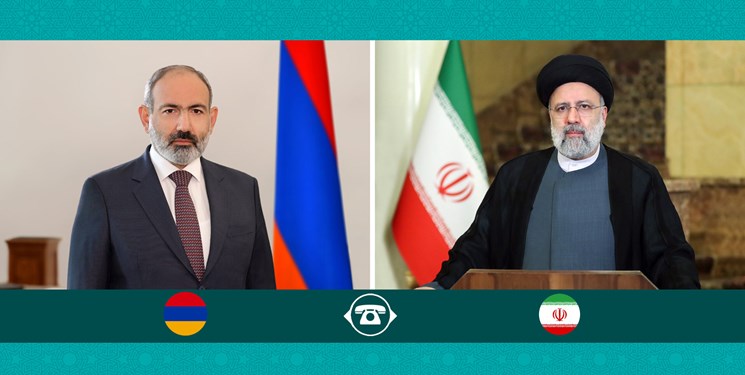 TEHRAN (FNA)- Iranian President Seyed Ebrahim Rayeesi underlined Tehran's opposition to geopolitical changes in the region, and reaffirmed that his country is ready to help promote peace and stability in the Caucasus.
President Rayeesi made the comment during a phone conversation with Armenian Prime Minister Nikol Pashinyan on Wednesday. They spoke days after renewed fighting in the South Caucasus region of Nagorno-Karabakh, a disputed region between Armenia and Azerbaijan.
Iranian president touched on the "strategic statements" of Leader of the Islamic Revolution Ayatollah Seyed Ali Khamenei during his meetings with the presidents of Russia and Turkey, Vladimir Putin and Recep Tayyip Erdogan, last month regarding the sensitivity of Tehran towards its borders in the Caucasus region and confronting any attempt to change them.
"Iran does not accept any changes in the political geography of the region and is ready to use all its capacities to establish peace and stability in the Caucasus region and its growth and development," he stressed.
Iran's president also referred to the trilateral ceasefire agreement signed in 2020 by leaders of Russia, Armenia and Azerbaijan, Putin, Pashinyan and Ilham Aliyev, and that ended a 44-day war between Yerevan and Baku.
Rayeesi stated that being committed to the ceasefire agreement and resolving the remaining issues through dialog and diplomatic ways is the best way to restore security and tranquility in the Caucasus region.
Pashinyan briefed the Iranian president on the latest clashes between Armenia and Azerbaijan.
The Armenian official also added that his country is ready to increase cooperation with Iran in road and energy sectors, and facilitate transit of goods between the two sides.
Top Security Official: No Restrictions for Expansion of Ties Between Iran, Armeniahttps://t.co/3MJvaFIAND pic.twitter.com/3G8BqpwLq4

— Fars News Agency (@EnglishFars) July 7, 2022
Iranian officials say Tehran believes that peace and stability in the region is enhanced through cooperation among the regional countries, voicing hope that the ongoing negotiations between Armenia and Azerbaijan over their long-running territorial dispute results in lasting peace.
Tehran describes Yerevan as an important friend and neighbor of Iran, calling for expansion of bilateral relations in different areas. Armenian officials also say Yerevan sees no ceiling for expanding cooperation with Tehran.