Politics
2022-August-14  20:42
Deputy Chief of Staff: Iran After Bolstering Military Ties with Iraq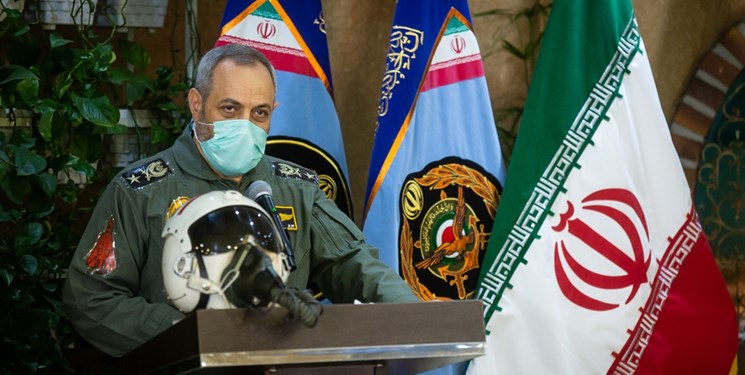 TEHRAN (FNA)- Deputy Chief of Staff of Iran's Armed Forces Brigadier General Aziz Nasirzadeh vowed to further expand defense cooperation with Iraq, and stressed that regional dynamics call for increased joint work.
Brigadier General Nasirzadeh said on Sunday that Iran and Iraq were already involved in military cooperation given their capacity for joint work but that Tehran was seeking to further improve the level of such ties with Baghdad.
"The region where the two countries of Iran and Iraq are located is important, because, in addition to their geopolitical status, they also have ample energy resources, which has led to some world statesmen and arrogant states eying the two countries with greed," Nasirzadeh added.
"Providing for the security and interests of the two countries necessitates that Iran and Iraq cooperate. On the other hand, the increasing of [defense] interaction would lead to the improvement of economic cooperation as well," he continued.
Chief of Staff of the Iranian Armed Forces Major General Mohammad Hossein Baqeri is scheduled to visit Iraq in line with the development of cooperation between the two countries, Nasirzadeh noted.
Nasirzadeh was speaking on the sidelines of a meeting with President of Iraqi Defense University Lieutenant-General Saad Mazhar Al-Alaq in Tehran.
Al-Alaq said the fight against terrorism necessitated increased cooperation between regional countries.
"That is why an intelligence sharing center has been established among Iraq, Iran, Syria, and Russia," he added.
President: Iran, Iraq Able to Bolster Ties despite Enemies' Willhttps://t.co/rwjciFJfGJ pic.twitter.com/74zz3ITKLU

— Fars News Agency (@EnglishFars) September 12, 2021
Iranian and Iraqi officials underline the need for expanding mutual cooperation between the two countries in different fields to maintain security and stability in the region.
Iranian officials have repeatedly reiterated the need for foreign troops to leave West Asia, emphasizing that Tehran will never back down on its stance in this regard.
Tehran has also underlined the necessity for the settlement of the crises and problems in the region through collective cooperation among the regional states, and underscored that the presence of foreigners is harmful.
Recently, Tehran urged the neighboring countries to be extremely vigilant about any US-Israeli plan that clearly aims to disturb the stability and order of the region.
READ MORE: IRGC Commander Says Presence of Foreigners Not Helpful to Region
Back in July, Iranian Foreign Ministry Spokesman Nasser Kana'ani cautioned that any plan aimed at increasing US presence in the Middle East will only foment insecurity and spread terrorism.
Kan'ani made the remarks while reacting to a plan by the US and Israel to build a security alliance with some regional Arab states that would connect their air defense systems to allegedly fight off what they call "threat from Iran".
"Any measure to pave the way for the increased presence and role of the United States in regional security mechanism will have no other outcome but insecurity, instability, and spread of terrorism across the region," the spokesperson noted.
He added that the plan to establish a so-called joint air defense system was provocative and "the Islamic Republic of Iran considers it a threat to its own national security as well as the regional security".
"The US comes up with such ideas without having a correct understanding of the region's realities, and only with the purpose of fueling Iranophobia and creating division among the regional countries," the official continued.
"This shows that the only thing that matters to America is realizing its own illegitimate interests and giving artificial ventilation to the Zionist regime in the region," he stated.
Efforts that lead to new security concerns in the region will have no result other than undermining the collective regional security and meeting the Zionist regime's interests, Kan'ani said, adding, "It is not possible to provide the Zionist regime with a security margin through deception and propagation of Iranophobia."
Participation of foreigners in any regional process will not only fail to contribute to security and stability of the region, but will also serve as the main source of tension and regional divisions, the official noted.
The spokesman cited the example of two-decades-long presence of the US in Iraq and Afghanistan, which failed to bring along security for the occupied countries.
"Experience has proven that accumulation of weapons cannot bring security, and establishment of collective regional security hinges on collective cooperation among regional countries. Preservation and durability of such security also requires promotion of intra-regional understanding and Iran has shown its seriousness and determination in this regard by remaining loyal to good neighborly policy," the FM spokesman said.
"Iran has always highlighted regional dialogue, cooperation and collaboration [as prerequisites] for providing security and realizing common interests of regional countries without intervention of foreigners," he added.