Politics
2022-August-17  17:28
Military Chief: Iran Enjoys High Deterrence Power Irrespective of Sanction, Pressure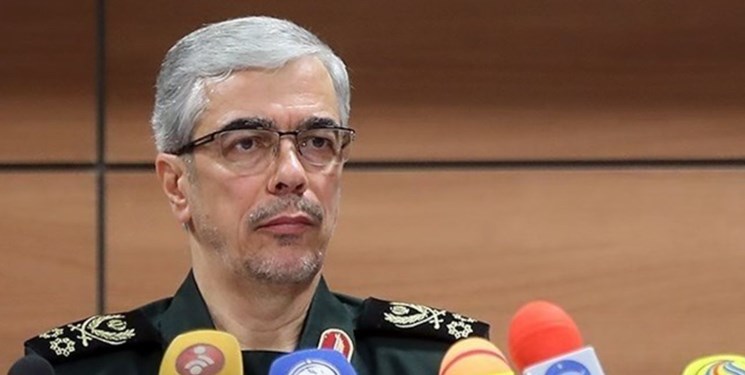 TEHRAN (FNA)- Chief of Staff of the Iranian Armed Forces Major General Mohammad Hossein Baqeri said that the military power of Iran is strong, extraordinary and deterrent despite enemy sanctions and pressures, and hailed the Islamic Revolution Guard Corps (IRGC) Navy for its remarkable developments in the recent decades.
Addressing a gathering of the IRGC Navy commanders and officials in the Northeastern city of Mashhad, Maj. Gen. Baqeri stated that the IRGC Navy, which has a brilliant background in fighting US aggressors in the Persian Gulf, had made significant development in enhancing the power in the fields of fleet, missile, and drone.
"Thank God, we have witnessed incredible and proud advancements and developments in the capabilities of the IRGC Navy over the past four years, which have promoted the Islamic Republic of Iran's deterrence power," he stated.
Referring to the Navy's strategic role and missions, he noted that safeguarding Iran's interests in the Persian Gulf and the Strait of Hormuz, which is the responsibility of the IRGC Navy, has established a strong defense in this strategic region.
READ MORE: Top Commander Says Iranian Navy to Carry Out Special Mission This Year
"Despite the enemy's sanctions and the maximum pressure, Iran's military power has been strong, extraordinary and deterrent," the military official underlined.
"Navy forces have put on the agenda developing equipment and improving the level of combat power," Baqeri underscored.
IRGC Navy Commander Warns to Nip Enemies' Threats in Budhttps://t.co/znvhDwOaSe pic.twitter.com/EuSriNfW7C

— Fars News Agency (@EnglishFars) July 19, 2022
Back in late July, Baqeri underlined that the deterrent power of the country's Armed Forces will be further enhanced to dissuades Tehran's enemies from implementing the their threats against Iran.
He stated that the Iran's Armed Forces are working to achieve the highest level of deterrence in the face of the threats posed by enemies to rid them of even the dream of launching an act of aggression against Tehran.
"We have set the goal of reaching the peak of deterrence so that the enemies will not have the courage to even dream about attacking Iran," the Maj. Gen. underscored.
Commander: Naval Drone-Carriers to Considerably Upgrade Iran's Operational Capabilityhttps://t.co/qbeexrB6uL pic.twitter.com/Sk0sbZUuuj

— Fars News Agency (@EnglishFars) July 17, 2022
The Islamic Republic's military doctrine holds that the country's armed capability solely serves defensive purposes.
Iranian military experts and technicians have in recent years made substantial headway in manufacturing a broad range of indigenous equipment, making the armed forces self-sufficient in the weaponry sphere.
Iranian officials have repeatedly stressed that the country will not hesitate to boost its military capabilities, including its missile and drone power, which are entirely meant for defense, and that Iran's defense capabilities will never be subject to negotiation.