Politics
2022-September-20  17:21
Nuclear Chief: IAEA Intending to Close Anti-Iran Cases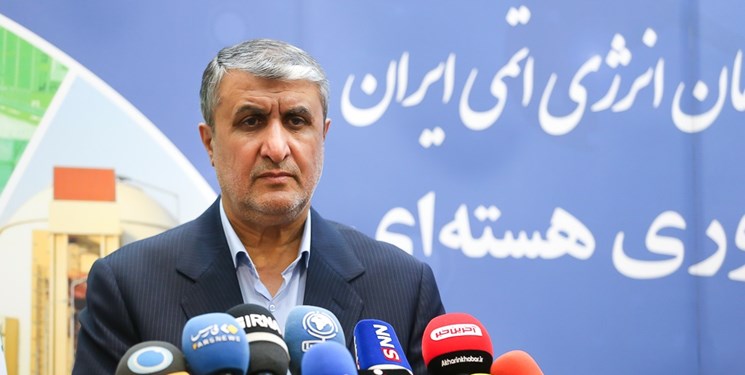 TEHRAN (FNA)- Head of the Atomic Energy Organization of Iran (AEOI) Mohammad Eslami said the International Atomic Energy Agency (IAEA) has voiced readiness to drop cases against Tehran, and underlined that the maximum pressure campaign against his nation is destined to failure.
"Messages delivered by the United Nations nuclear agency to us show that they intend to close the case of alleged locations," Eslami stated on Monday.
He expressed hope that the IAEA would be "honest" in this case and would not "waste its time" anymore, adding that they should not think that in such cases they can exert "maximum pressure".
Referring to the agreement with the IAEA Director General Rafael Grossi, Eslami noted that "Iran will answer the questions on the condition that IAEA closes the case".
The AEOI head highlighted that the Zionists are looking to make changes to the NPT [for becoming a member], but they have not yet reached a consensus with other members.
The official said that according to the signs the Europeans have been willing to make a deal, but their main intention is to isolate Iran and somehow with the nuclear deal they want to buy time to "undermine us".
Eslami added that they disagreed with Iran's fuel cycle even before the Islamic Revolution.
Spokesman: Tehran Considers IAEA's Attitude Towards Iran's N. Program as Politicalhttps://t.co/NnFakBV5KM pic.twitter.com/0GNw7MRtaJ

— Fars News Agency (@EnglishFars) September 15, 2022
Iran has always had full cooperation with the IAEA and allowed it to visit the country's nuclear sites, but calls the nuclear agency's approach unconstructive and destructive.
Back in mid-September, AEOI Spokesman Behrouz Kamalvandi said Tehran has fully cooperated with the IAEA about three sites in question inside the country, adding that detection of nuclear traces at Iranian sites does not mean Tehran has undeclared nuclear material.
Kamalvandi stressed that remarks by Grossi regarding potentially undeclared sites in Iran were unwarranted.
"Iran has been fully cooperative regarding the three alleged sites brought up by the nuclear watchdog and has sent information and answers to the nuclear agency's questions and has also held meetings to resolve the ambiguity," the AEOI spokeperson asserted.
Iran Rejects IAEA's Politically-Motivated Report, Says Peaceful N. Program Fully Transparenthttps://t.co/xpvH6xcb0Q pic.twitter.com/d35FUITAAy

— Fars News Agency (@EnglishFars) September 9, 2022
"Since the nuclear agency has accounted for all of Iran's declared nuclear material and there is no discrepancy, the mere detection of contamination in some sites cannot be taken to mean undeclared nuclear material," he noted.
The official pointed out that the IAEA must not judge based on fabricated documents provided by Israel with specific political goals, and stressed that that type of judgment is against the nuclear agency's principle of neutrality and professionalism.