Politics
2022-September-22  17:30
Military Chief: Iran Not to Tolerate Change to Regional Borders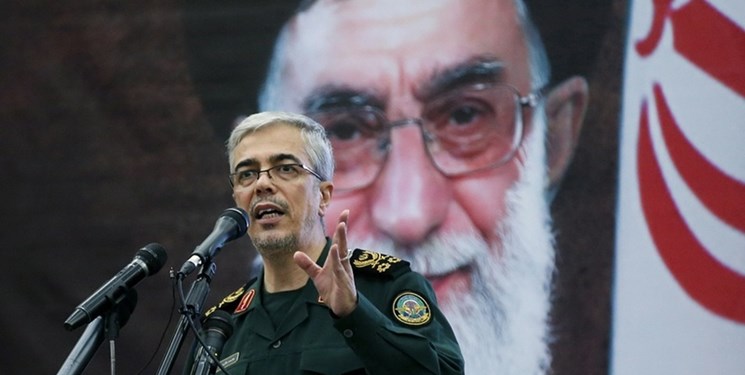 TEHRAN (FNA)- Chief of Staff of the Iranian Armed Forces Major General Mohammad Baqeri called on Armenia and Azerbaijan to solve their territorial disputes through dialogue, warning that Iran will not tolerate any change to the borders of the countries in the region.
Delivering a stern warning against any attempt aimed at changing the regional borders in the vicinity of Iran, the top military commander called on neighboring Azerbaijan and Armenia to resolve their border issues peacefully. 
"We have repeatedly declared that we do not tolerate any changes to the region's borders," Major General Baqeri said on Thursday.
"We advise Azerbaijan and Armenia to resolve their problems through peaceful channels. We do not tolerate any resort to clashes and war and will not sit idly by in the face of it," he added.
His comments come amid renewed border tensions between Azerbaijan and Armenia.
Elsewhere in his remarks, the Iranian military chief cautioned the Persian Gulf littoral Arab kingdoms against the divisive agenda of the Israeli regime in the region.
The presence of the Zionists disrupts regional security and Iran keeps all their activities in the region under watch, he said.
"If we sense any threat, we will deal with both the elements of the Zionist regime and their sponsors simultaneously," the top commander added.
Military Chief Warns Regional Countries, US, Israel over Jeopardizing Iran' Securityhttps://t.co/aVhL9UYeIN pic.twitter.com/jENnPu4HX7

— Fars News Agency (@EnglishFars) September 7, 2022
Armenia and Azerbaijan started new border clashes last week that left 200 troops dead. Each side blamed the other for the fighting.
The neighbours have fought two wars over the Nagorno-Karabakh region, the Armenian-populated enclave in Azerbaijan. There have been frequent reports of fighting along the Armenia-Azerbaijan border since the end of their 2020 war.
Iranian officials have repeatedly underlined Tehran's opposition to geopolitical changes in the region, and reaffirmed the country is ready to use all its capacities to establish peace and stability in the Caucasus region and its growth and development.