Politics
2022-September-23  16:25
President Rayeesi: US' Words Inconsistent with Actions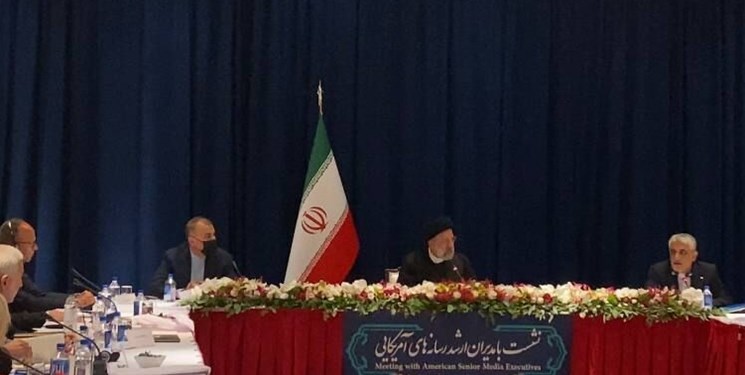 TEHRAN (FNA)- Iranian President Seyed Ebrahim Rayeesi underlined that the US officials' claims about their good will to sign a deal with Iran on removal of sanctions are quite inconsistent with Washington's constant imposition of sanctions on Tehran.
The Iranian president made the remarks in a meeting with a group of senior US media executives in New York.
"We have experienced direct negotiation with America and we have found that there is no benefit to it. If the Americans are telling the truth and are honest, they should fulfill their obligations," President Rayeesi said.
President Rayeesi pointed out that the safeguards claims against Iran are based on the Israeli regime's allegations which lack credibility due to the sabotage acts carried out by Tel Aviv and they are meant to further postpone the deal  on removal of sanctions.
Asked about Iran's situation in nuclear issue, President Rayeesi said that the US has withdrawn from the deal and the Europeans also failed to fulfill their commitments while the Islamic Republic has fulfilled all its duties according to 15 official reports submitted by the International Atomic Energy Agency (IAEA).
The Iranian president pointed out that Iran has experienced once the US exit from the JCPOA and we have informed them that they should give trustworthy guarantees to avoid repeating the same behavior.
He emphasized that the alleged safeguards issues should be closed once and forever, and said that "Iran's nuclear activities have been under monitoring of the International Atomic Energy Agency and there has been no deviation from the law in the IAEA reports.
The Iranian president emphasized, "Therefore, achieving a logical and fair agreement depends on providing reliable and reassuring guarantees, closing the case of alleged safeguards issues and permanently lifting the sanctions."
Iran and the five remaining parties to the nuclear deal have held several rounds of negotiations since April last year to restore the agreement, which was unilaterally abandoned by Donald Trump in May 2018.
In quitting the agreement, Trump restored sanctions on Iran as part of what he called the "maximum pressure" campaign against the country. Those sanctions are being enforced to this day by the Biden administration, even though it has repeatedly acknowledged that the policy has been a mistake and a failure.
Iranian officials say the ball is in the US' court, and the Biden administration should assure Tehran that it will not repeat Trump's past mistakes.
Iranian officials have also criticized Washington for raising excessive demands from Tehran during the nuclear talks, and blocking efforts to reach an agreement on the JCPOA. They emphasized the Tehran's will to reach a good, strong and lasting agreement, and stressed that the US should lift unilateral sanctions, and assure Iran that it will not repeat its past mistakes.