Politics
2022-October-19  17:08
IRGC Conducts Aerial Practice During Wargames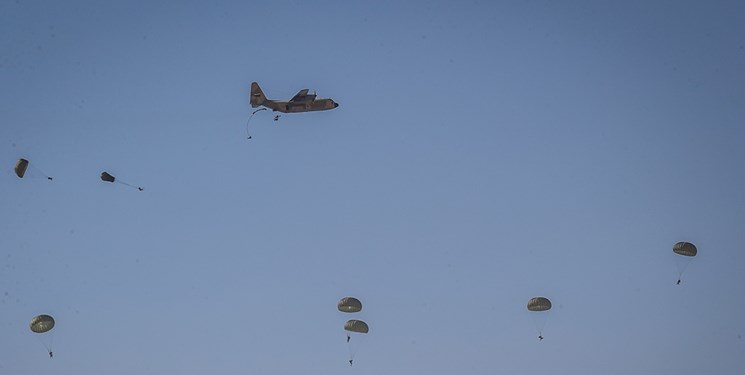 TEHRAN (FNA)- The Islamic Revolution Guards Corps (IRGC) continued its large-scale drills in Northwestern Iran to exercise tactical operations, including heliborne and parachuting.
The IRGC Ground Force's troops carried out heliborne and parachute jump operations during the military exercise in in Northwestern Iran on Wednesday.
On the third day of the 'Mighty Iran' wargames, underway in 'Aras' region along the Northwestern boundaries in the provinces of Ardabil and East Azarbaijan, the IRGC special forces conducted airborne operations with Mil Mi-17 helicopters in predetermined areas.
The participants in the drils also seized the routes and heights controlled by the hypothetical enemy.
The suicide drones of the IRGC ground forces have successfully destroyed the positions of the mock enemy.
The domestically designed and produced drones are equipped with powerful warheads and capable of destroying all kinds of enemy positions and fortifications using artificial intelligence. Also, the surveillance drones of the IRGC ground forces have successfully implemented the mission of observing and monitoring the exercise area.
During the military exercise that kicked off on Monday, the IRGC forces have for the first time practiced setting up pontoon bridges on rivers for troops and vehicle travel. The troops have also carried out combined operations including security and defense tactics.
On the second day of the exercise, all kinds of tanks, cannons, armored vehicles, missile units, support vehicles, and other equipment were sent to the exercise area.
The latest advanced, up-to-date and modern equipment of the IRGC Ground Force are being displayed during the wargames.
Parachute heliborne operations, night operations, helicopter combat operations, combat and suicide drone operation, as well as constructing a bridge over the Aras River, control of roads, the seizure of heights, and destruction, are on the agenda of the drills.
Military officials say Iranian forces are in the best possible conditions and ready for defense against any possible aggression with the most state-of-the-art home-made equipment.
Iranian military experts and engineers have in recent years made remarkable breakthroughs in manufacturing a broad range of indigenous equipment, making the armed forces self-sufficient.
Iranian officials have repeatedly stressed that the country will not hesitate to strengthen its military capabilities, including its missile power, which are entirely meant for defense, and that Tehran's defense capabilities will be never subject to negotiations.