Politics
2023-January-21  14:52
Speaker: Iranian Parliament to Firmly Respond to EU Hostile Action Against IRGC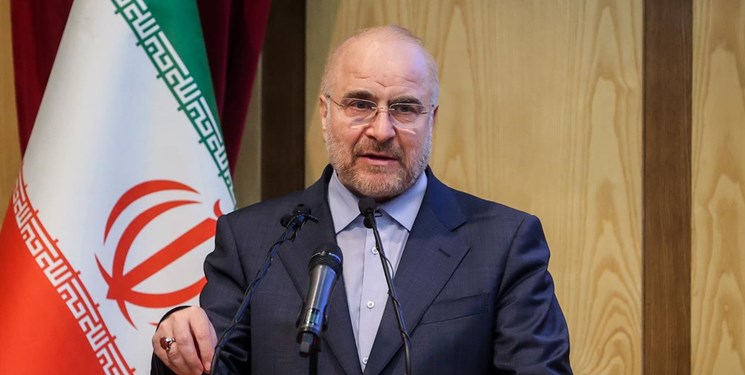 TEHRAN (FNA)- Iranian Parliament Speaker Mohammad Baqer Qalibaf condemned the European Parliament's push to designate the Islamic Revolution Guards Corps (IRGC) as a "terrorist organization", and underscored the legislature's readiness to show a decisive response to any such hostile move by the EU states.
Qalibaf held a meeting with the IRGC Commander-in-Chief Major General Hossein Salami on Saturday to declare Iranian parliament's support for the IRGC.
"If the European Parliament wants to close the window of logic and defend terrorism, the Islamic Republic will be ready for taking strong measures against any action," the senior lawmaker told reporters after the meeting.
"Today, Europeans support terrorism and the European Parliament supports the MKO [Mujahedin-e-Khalq Organization] terror group, which tortured and assassinated more than 17,000 dear Iranians, including women and children," Qalibaf continued.
"If they want to damage the Islamic Revolution Guards Corps, the Majlis will be ready to counter," the speaker added.
He warned that if the EU blacklisted the IRGC, Tehran will treat the armed forces of the European nations in the region as "terrorist".
On Wednesday, the European Parliament's members backed an amendment added to an annual foreign policy report, calling for "the EU and its member states to include the IRGC in the EU's terror list". The step was passed by a vote of 598 in favor and nine against, with 31 abstentions.
The move has been strongly condemned by Iranian officials, commanders and the Armed Forces.
The amendment will urge Brussels to blacklist the IRGC military force, the volunteer Basij force, and the IRGC's Quds Force.
Tehran has repeatedly announced that the IRGC is an official state body which has had and will continue to have an important and key role in ensuring the security of Iran and the region.
Iranian officials have recently warned the EU that its plan to blacklist the IRGC as a "terrorist organization" may have unbearable consequences and ruin any chance of negotiations.
They cautioned the European governments against falling into the trap of a plot hatched by the US and Israel, calling on the EU to maintain its independence from the US.