Politics
2023-January-23  15:47
Iran, Venezuela Vow to Broaden Mutual Cooperation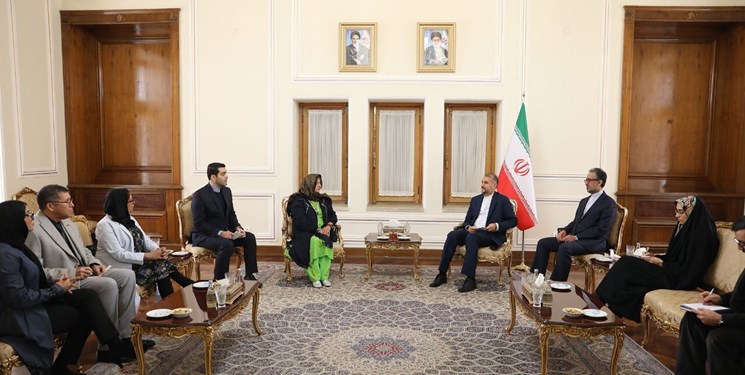 TEHRAN (FNA)- Iran's Foreign Minister Hossein Amir Abdollahian and Venezuelan Deputy Foreign Minister Capaya Rodriguez in a meeting in Tehran on Monday underlined the need to expand bilateral relations in different fields.
During the meeting in the Iranian capital today, Amir Abdollahian and Rodriguez explored avenues for bolstering and reinvigorating mutual cooperation in various areas.
During the meeting, the Iranian foreign minister declared Iran's readiness to increase the level of cooperation between Tehran and Caracas, including the follow-up for the two countries' collaborations in energy, technology and high-tech, as well as the enhancement of interactions.
The Venezuelan deputy foreign minister, for her part, underlined the importance of women's roles in all countries, and said that the influential women's congress in Tehran showed that the position of women in Iran is very highlighted and admirable.
The First International Congress for the Women of Influence was held in Tehran on Friday, and female participants from 96 countries of five continents took part in the event.
Wives of presidents of Burkina Faso, Kyrgyzstan, and Serbia as well as wives of former presidents of Guinea and Niger, special envoy of the first lady of Nigeria, the former first lady of Sri Lanka, special envoy of the Syrian president, head of the central council of women in Turkmenistan and wife of Armenia's prime minister took part in the international congress.
Some 300 foreign guests, including 70 female officials and influential figures such as ministers, vice presidents and members of parliaments, traveled to Iran to attend the event and listen to Iranian women's real voices on the ground contrary to the negative propaganda campaign of the Western media outlets.