Politics
2023-January-24  14:17
Iranian FM: Emotional Behaviors to Cost for Europe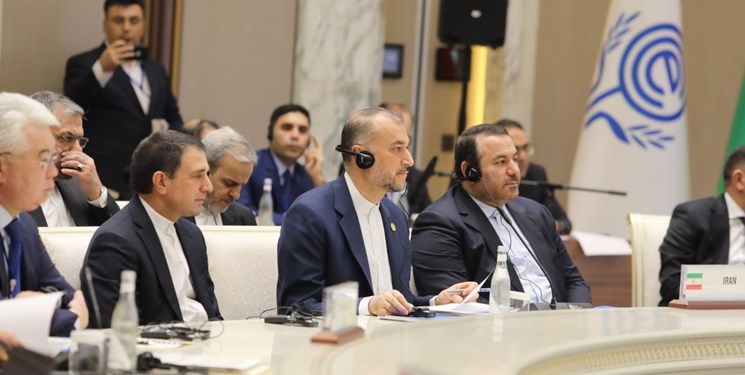 TEHRAN (FNA)- Iranian Foreign Minister Hossein Amir Abdollahian strongly condemned the European Parliament's meddling move to label the Islamic Revolution Guards Corps (IRGC) as a terror entity, and said that emotional behaviors will cost European states.
Amir Abdollahian made the remarks in an address to the 26th foreign ministerial meeting of the Economic Cooperation Organization (ECO) in the Uzbek capital of Tashkent on Tuesday.
The top diplomat said the right path for Europe would be focusing on diplomacy and constructive interaction with Iran.
The minister has warned the European countries that "emotional behavior" by Europeans will have a negative impact and will prove costly for them.
Amir Aabdollahian was commenting on the European Parliament's draft resolution that called for the blacklisting of the IRGC.
On Wednesday, the European Parliament's members backed an amendment added to an annual foreign policy report, calling for "the EU and its member states to include the IRGC in the EU's terror list". The step was passed by a vote of 598 in favor and nine against, with 31 abstentions.
The amendment will urge Brussels to blacklist the IRGC military force, the volunteer Basij force, and the IRGC's Quds Force.
The move has been strongly condemned by Iranian officials, commanders and the Armed Forces.
Tehran has repeatedly announced that the IRGC is an official state body which has had and will continue to have an important and key role in ensuring the security of Iran and the region.
Iranian officials have warned the EU that its plan to blacklist the IRGC as a "terrorist organization" may have unbearable consequences, urging Europe to avoid repeating the past mistakes.
They cautioned the European governments against falling into the trap of a plot hatched by the US and Israel, calling on the EU to maintain its independence from the US.
Tehran stresses the European states enjoy safety because of the elite forces' efforts in the fight against terror groups in the region.
In April 2019, the Iranian parliament passed a law designating American forces in West Asia, known as the United States Central Command (CENTCOM), as a terrorist organization. The move was made in response to the US blacklisting of the IRGC.