Politics
2023-January-24  15:21
IRGC Chief: Enemies of Syria on Verge of Falling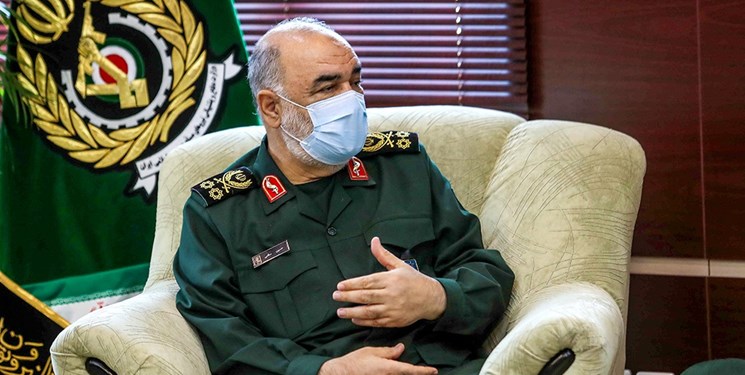 TEHRAN (FNA)- Commander of the Islamic Revolution Guards Corps Major General Hossein Salami underlined Tehran's readiness to cooperate with the Syrian Armed Forces in various fields, and said those who once sought to topple Syrian President Bashar Assad are now on the path to decline and destruction.
Maj. Gen. Salami made the remarks in a meeting with the Syrian Defense Minister Ali Mahmoud Abbas in Tehran on Tuesday.
The Iranian commander considered the exchange of experiences in various fields, particularly cyber warfare, information warfare and electronic warfare, to be an important and sensitive issue, saying that the IRGC is ready to upgrade educational cooperation with the Syrian Armed Forces.
He emphasized the importance of developing defense and military cooperation between Tehran and Damascus, adding, "We are ready to help the Syrian Armed Forces in the required fields."
The IRGC chief described the recent developments in the Israeli-occupied territories and the Gaza Strip as sign of the Zionist regime's decline.
"Those who once sought to destroy Syria, are now on the path to decline and destruction," Salami declared.
Abbas, for his part, appreciated Iran for its support to Syria in the fight against Daesh (ISIL or ISIS) and other terrorist groups.
"The Syrian nation will never forget Iran's valuable support and assistance, led by Martyr Qassem Soleimani, in fighting terrorists. Your assistance to Resistance movements in the region, including Palestine, is an undeniable fact and has caused the defeat and anger of the enemies of the Islamic Ummah," the official added.
In reaction to the Anti-IRGC measure by the European Parliament, he stated that governments that are the source of terrorism accuse others of being terrorists.
"They also call Syria, which supports Hezbollah and Hamas, terrorist," the minister added.
Since 2011, Syria has been gripped by foreign-backed militancy, as a result of which Daesh and other terror groups emerged in the country.
Iran maintains an advisory mission in Syria at the request of Damascus with the aim of helping the war-ravaged country get rid of the foreign-backed militants who have been fighting against the democratically-elected Syrian government since 2011.
Several members of the IRGC have so far martyred in battle against terrorists in the war-torn Syria.
Lieutenant General Soleimani, who was assassinated in a US raid near the Baghdad International Airport in January 2020, played a key role in the disgraceful defeat of Daesh terror group.