Politics
2023-February-2  14:29
Iranian FM Describes Sanctions as Terrorist Tool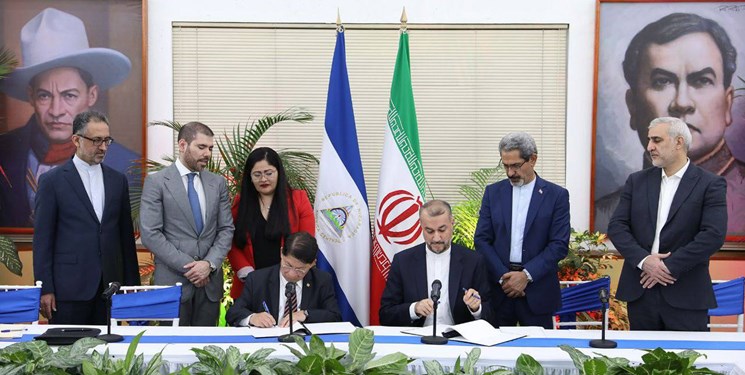 TEHRAN (FNA)- Iranian Foreign Minister Hossein Amir Abdollahian blasted the US enmity towards Tehran, and said that Washington's resorts to sanctions against any country that stands against the American hegemony.
Amir Abdollahian hailed enhanced ties with Nicaragua during a joint meeting with his Nicaraguan counterpart Denis Moncada in Managua on Wednesday.
"Iran is serious in looking at Latin America within the framework of its foreign policy doctrine. We are witnessing the expansion of relations between Iran and Nicaragua," he said.
The top diplomat also expressed his satisfaction with the cooperation between the two countries in the energy sector, saying both capitals agree to hold joint economic commission regularly.
"Our ambassadors are actively following up relations and I am happy that the positions of both countries regarding international issues are on the right track," the minister continued.
He added that the two countries have signed a memorandum of understanding on cooperation and political consultations mechanism.
The Iranian foreign minister also stated that Tehran strives for political independence for a multilateral world order.
Referring to US-led sanctions against independent countries, Amir-Abdollahian noted sanctions are a "terrorist threat" that imperial powers use as leverage.
For his part, the Nicaraguan foreign minister said the cooperation document is the first agreement signed with Iran in 2023, noting that 14 such documents were inked last year in line with the interests of both nations.
He also voiced confidence that bilateral relations will be reinforced through joint work and cooperation, highlighting the need to boost cooperation with Iran as a friendly and brotherly country to achieve peace and secure the rights of the two nations.
Amir Abdollahian traveled to Nicaragua on Wednesday, after making a visit to Mauritania. He is also expected to visit Venezuela as his second destination in Latin America.
Iranian officials have noted that the US has been defeated in the maximum pressure policy against Tehran, underscoring that sanctions have all failed to hamper the progress of the country.
In quitting the 2015 nuclear deal, former President Donald Trump restored sanctions on Iran as part of what he called the "maximum pressure" campaign against the country. Those sanctions are being enforced to this day by the Joe Biden administration, even though it has repeatedly acknowledged that the policy has been a mistake and a failure.
Tehran says it will not be able to trust Washington as long as President Biden continues the wrong policy of maximum pressure and sanctions practiced by Trump against Iran. 
Iranian officials say the Biden administration has yet done nothing but hollow promises to lift sanctions against Tehran. They blast the US addiction to sanctions, and slammed the POTUS for continuing his predecessor's policy on Iran.