Politics
2023-February-4  15:25
President Maduro Stresses Broadening of Iran-Venezuela Cooperation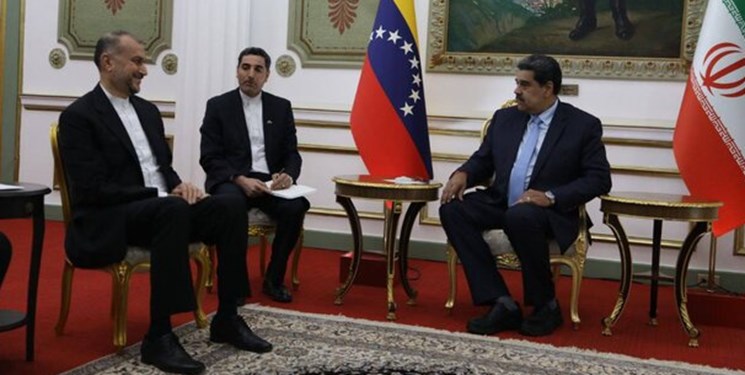 TEHRAN (FNA)- Venezuelan President Nicolás Maduro in a meeting with Iranian Foreign Minister Hossein Amir Abdollahian underlined the need to strengthen cooperation between Caracas and Tehran.
During a meeting held on Friday in the Venezuelan capital of Caracas, President Maduro and Amir Abdollahian reviewed the process of cooperation between Venezuela and Iran, emphasizing accelerating the implementation of the projects between the two countries, as well as being vigilance in defending the national interests against external pressures.
President Maduro pointed to the experiences of the two countries in facing common challenges, and underlined the need to strengthen cooperation between the two countries. 
Referring to President Maduro's visit to Tehran and the signing of the comprehensive cooperation document between Iran and Venezuela, Amir Abdollahian said that the visit was a milestone in bilateral relations between the two countries.
He added that it is important to quickly implement the reached agreements in the direction of strengthening cooperation.
Maduro also conveyed his greetings to Supreme Leader of the Islamic Revolution Ayatollah Seyed Ali Khamenei and President Seyed Ebrahim Rayeesi.
In a relevant development on Friday, Amir Abdollahian met with his Venezuelan counterpart Yvan Gil Pinto.
Amir Abdollahian congratulated Gil Pinto's recent appointment as the top diplomat of Venezuela and called for the expansion of bilateral ties between Iran and the South American country in all fields.  
He said that Iran has no limits for developing its ties with Venezuela.
Amir Abdollahian, heading a high-ranking delegation, arrived in Caracas late on Thursday to hold talks with senior government officials of Venezuela.